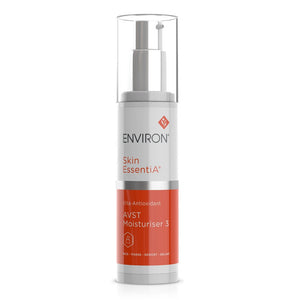 Good product
So far I have found this good and did not have any reaction when I moved up a level. These products have definitely improved my skin barrier.
Environ Skin EssentiA Vita-Antioxidant AVST Moisturiser 3 (Serum)
Environ Skin EssentiA Vita-Antioxidant AVST Moisturiser 3 (Serum)
Environ 3 serum
I have been using Environ for the last one and a half years. I love it.
Want to order Environ but aren't a consultation client? Chat with our team between 9AM - 5PM Monday to Friday to discuss Environ, if it's suitable for you and get access to this this product.
Environ call it a moisturiser... we call it a serum!
Environ Classic is the 3rd step in Environ's advanced vitamin step-up system and features a moderately high concentration of vitamins A , C and antioxidants. This unique blend of active ingredients leaves your skin feeling refreshed and revitalized - with a more youthful appearance.
Please note: you must have used an entire bottle of AVST 2 within a twelve week period before you progress to AVST 3. If you have experienced dryness, congestion or if your AVST product has exacerbated any previously existing skin conditions, please contact your Nerdette. 
You should use your AVST within 12 weeks due to the nature of the ingredients. We recommend that you purchase with intent to use immediately as Environ produce some of their products as per demand and AVST has a shorter shelf life. 
If you are not using an acid-based product in your regime, chat to your Nerdette about home-rolling to further enhance your results.
  Not suitable for use during pregnancy
Jenn's Nerdie Bit
Quick note... When it comes to waxing in the area you are using AVST 3, the (evil) wax may tug the skin along with the hair due to how healthy the skin is. Your pores become more compact on AVST so the hair follicle will not come out as easily. 
AVST is the product that I would recommend to everyone (unless they are pregnant). Vitamin A deficiency is the cause of many skin conditions, so boosting vitamin A can do a world of good! AVST is a progressive, step up system, so make sure to check in with us regularly so that we can discuss moving on to the next step.
AVST should be applied to the skin directly after cleansing unless otherwise specified by your Nerdette.