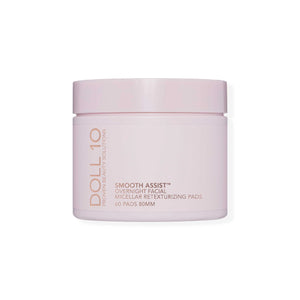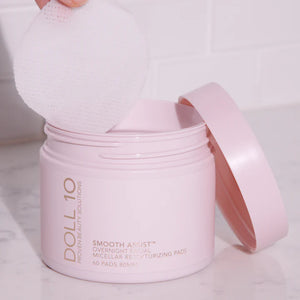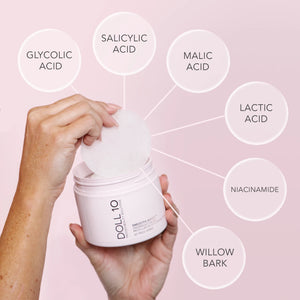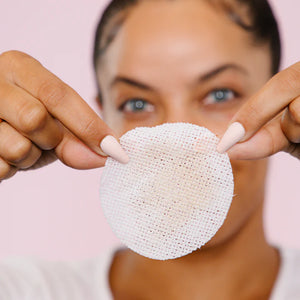 AMAZING!
I've been using these overnight facial micellar pads for about 2 weeks now and I am so impressed with the results so far! Since day one I could see a difference, my skin surface is smoother, clearer and larger pores have been reduced, thanks to the properties in these pads. You will not be disappointed if deciding to try. I will definitely be re-purcasing again...Thank you Skin Nerd!
DOLL 10 SMOOTH ASSIST OVERNIGHT FACIAL MICELLAR PADS
Smooth Assist Overnight Facial Micellar Retexturizing Pads are a revolutionary way to clean, exfoliate and reveal dramatically smoother, softer, more luminous skin. This multi-acid, antioxidant cocktail of ingredients helps to resurface congested skin by lifting away makeup, debris, & dead skin cells, overall improving the appearance of skin tone, texture, brightness, fine lines, wrinkles, and pores. 
SOLUTIONS FOR
✔ Cleansing
✔ Visible Pores
✔ Makeup Removal
✔ Skin texture
CLEANSE & TREAT
SMOOTH ASSIST™ OVERNIGHT FACIAL MICELLAR RETEXTURIZING PADS are designed to clean & exfoliate the skin to optimize the absorption of your treatment products. Formulated with a multi-acid exfoliating complex of glycolic acid, lactic acid, salicylic acid and malic acid to help exfoliate and reveal beautiful, healthier, younger-looking skin. These pads are also formulated with niacinamide, willow bark and noni fruit extract to aid in soothing the skin. Regular use of pads helps to clear pores, even the appearance of skin tone and dark spots, helps skin to look firmer and diminishes the look of fine lines and wrinkles.