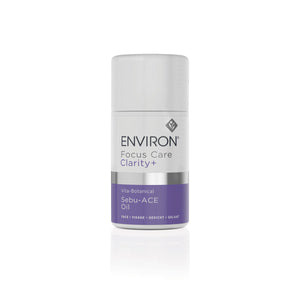 Very gentle on skin and he can see an improvement in his skin already. Absorbs into skin really well and doesn't leave it with an oily appearance. Very happy with the progress so far and the skin nerd consultation.
changed skin
My skin has really benefited from using this, especially with the lotion
Great for Hormonal acne
I got this for my teenager daughter due to a change in her hormonal skin. She has been using this with the lotion for almost a month now and i have to say it seems to be doing a good job. It was recommended to her after a consultation and so far so good. I can see her confidence coming back so i am happy!
Incredible
My acne completed cleared from using this with the Sebu Lac Lotion
Environ Focus Care Clarity+ Sebu-ACE Oil
Want to order Environ but aren't a consultation client? Chat with our team between 9AM - 5PM Monday to Friday to discuss Environ, if it's suitable for you and get access to this this product.
Environ Focus Care Clarity Sebu-ACE Oil is a lightweight botanical and vitamin enriched oil that helps to control the appearance of blemishes. It is scientifically formulated to provide skin with essential vitamins A, C & E, leaving the skin looking and feeling healthier and smoother. 
Contains:
Vitamin A (retinyl propinate): regulates the production of oil and promotes skin cell renewal to aid in the skin's natural exfoliation process 
Vitamin C & E: potent antioxidant to protect you from free radical damage 
Tea Tree Leaf Oil: anti-bacterial, anti-inflammatory, accelerates wound healing 

It's suitable for congestion and breakout-prone hoomans.
How to use:
Mix equal amounts of Sebu-ACE Oil with Sebu-Lac Lotion in the palm of your hand and gently massage into affected areas of cleansed skin. Use AM & PM. 
 Not suitable for use during pregnancy