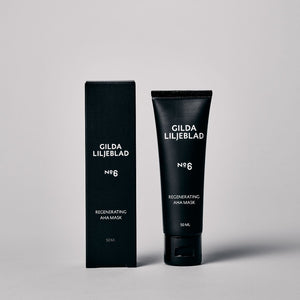 Aqua, Glycolic Acid, Vaccinium Myrtillus Fruit/Leaf Extract, Glycerin, PEG-40 Hydrogenated Castor Oil, Saccharum Officinarum Extract, Trideceth-9, Xanthan Gum, Urea, Citrus Aurantium Dulcis Extract, Citrus Limon Fruit Extract, Acer Saccharum Extract, Bisabolol, Ethylhexylglycerin, Propylene Glycol, Phenoxyethanol, Diazolidinyl.
Not a fan
I absolutely love my Gilda Liljeblad AHA night cream however I wasn't a fan of this mask. Really didn't like the smell or the gel like texture and it took a long while for my skin to get used to it. I had to take it off very quickly after putting it on. My skin is used to it now but I'm really only using it up. Much prefer my new yonka mask.
Hey Therese,
Thanks for the feedback. It does take some time to adjust to the mask indeed. The Gilda Mask is a product we recommend adding to your routine progressively, starting with 5 minutes on the first use, once per week. Then week on week slowly increasing the amount of time you leave it on, so long as tolerated by your skin.
That said, delighted you already have an alternative but feel free to pop us an email at hello@theskinnerd.com and we'd be happy to discuss this further and advise what could be suitable for you x
Gilda Liljeblad Regenerating AHA Mask
Lovely mask
I love the way my skin feels after this mask. Skin looks fresh and younger after use.
Gildas Mask
My skin looks and feels amazing after this mask.
Skin feels super soft and looks amazing after this.
Gilda Liljeblad Regenerating AHA Mask is a gel mask that instantly renews and highlights a younger-looking, firmer skin. Contains exclusive AHA acids that increase collagen production, and reduce pigmentation as well as lines. Also works well on acne-prone skin as it has exfoliating and antibacterial effects.
Contains: 
Glycolic Acid: exfoliating AHA
Lactic acid from blueberries: exfoliating AHA, moisture-binding, exfoliating,
increases cell renewal, antibacterial
Glycerin: humectant (water-binding) hydrator
Glycolic acid from sugar cane: exfoliating AHA 
Orange and lemon extract: exfoliating AHAs
Bisabolol (chamomile extract): caring, soothing, anti-inflammatory
Ideal for dry skin, oily skin, mature skin, spot-prone skin and those with pigmentation.
How to use:
Apply an even layer two to three times a week after cleansing. The mask gives a tingly effect. Let the skin slowly get used to the product. Leave on for maximum 5 minutes the first times and after that 5-10 minutes. Rinse with plenty of water. 
Fully recyclable