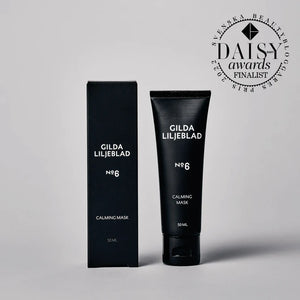 Gilda Liljeblad Calming Mask is a soothing face mask that relieves sensitive and irritated skin and gives a deep hydration. The product helps to strengthen damaged skin barrier and the irritated skin becomes less red. Contains extracts from red algae that increase moisture level and protect against environmental influences.
Contains: 
 Irish moss: A red algae which help the skin retain moisture without feeling heavy
Panthenol: Vitamin B5 for soothing benefits to the skin and potent anti-inflammatory action
NMF: Amino acids and humectants for a deep hydrating effect
How to use:
Apply an even layer 1-3 times per week and allow to work for 15 minutes or longer, Can be used as a night mask. Suitable for use on the eye area and on the lips.

Fully recyclable