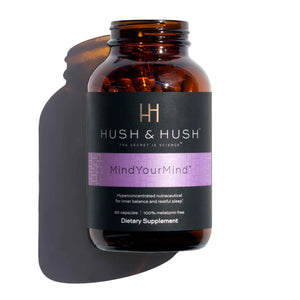 ottimo prodotto
e' un buon prodotto , aiuta molto quando si e' stressati
Aids Sleep
I have find these definitely help sleep
Mind your mind
Like this product a lot
Definitely helps with sleep....would recommend 100 %
No effect
Bought after reading reviews but unfortunately has done nothing for me. Have had disrupted sleep for some time, made worse by menopause. Found these actually made my sleep worse and did nothing to stop vivid dreams.
I use one capsule of hush and hush mind your mind
just a hour before bed, they help me sleep and also relax my mind,I don't feel anyway groggy in the morning, I would highly recommend them
MindYourMind™
re:set beautifully
FORGET THE SHEEP. COUNT ON SCIENCE INSTEAD.
Instilling a state of calmness and peacefulness is step one towards a good night's sleep. This enriched nutraceutical quiets your mind, body and soul. Time-tested botanicals go to work to reduce stress and mental clutter while proven sleep promoters help you fall asleep and keep you asleep, so you can have a good night for a good day. No more tossing and turning. Quantity: 60 capsules