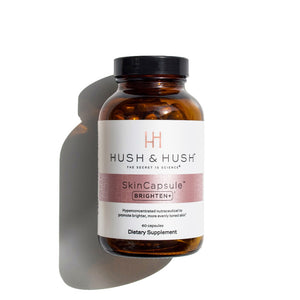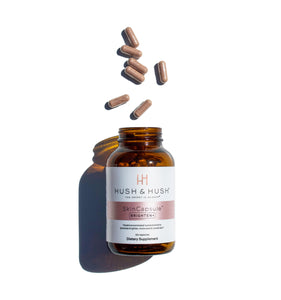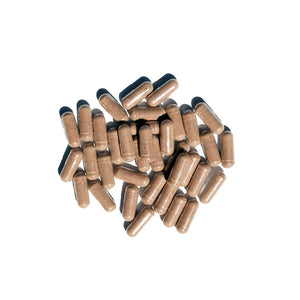 Vitamin C, Zinc, SkinAx2™, Pomanox®, Pine (Pinus pinaster) (bark) extract, Polypodium leucotomos (leaf) extract, Saberry®, Red Panax ginseng, Green tea, AMLAMAX®, Purslane, Lutemax, Lycopene
Low vitamin levels?
Hi! I recently switched from Solgar Vit C to this but I was shocked when I realised the Vit C levels are 90% lower in the hush & hush. Is it just a marketing ploy and nice bottle or are other ingredients outweighing the lack of actual vitamin content?
EVENLY TONED SKIN FOR THE WIN

Hush & Hush SkinCapsule Brighten is an all-natural supplement that works to even skin tone, which relies on clean, clinical, plant-based ingredients, works to lessen the appearance of unwanted signs of discoloration, sunspots, redness, and uneven skin tone. A blend of scientifically sound and proven brightening agents, including vitamin C, patented ingredients like Amlamax, Lutemax, Saberry and SkinAx2, work deep within the skin to create brighter, more illuminated, healthier-looking skin that's even.
Perfect for those with pigment and for those with redness!
Regulates the synthesis of melanin
Brightens dull-looking skin
Diminishes the appearance of age-related discolouration, age spots, sunspots, and redness
Decreases inflammation that can cause discoloration in the skin
Vegan, plant-based
Suitable for all hoomans
Clean Clinical Vitamins®
Contains:

Vitamin C: targets melanin
Zinc: decreases inflammation 
Skinax2: mix of superoxide dismutase, vitamin C and zinc - regulates melanin synthesis 
Pomanax P30: antioxidant from pomegranate 
Saberry extract: super fruit that improves skin tone 
Lutemax (lutein): defends against blue light

How to use:
Take 2 capsules with food, preferably during your normal skincare routine