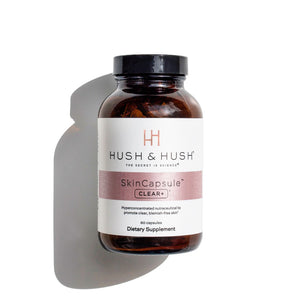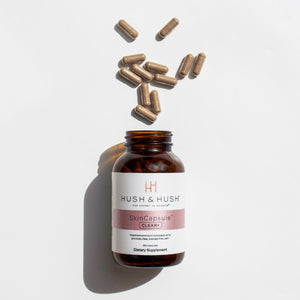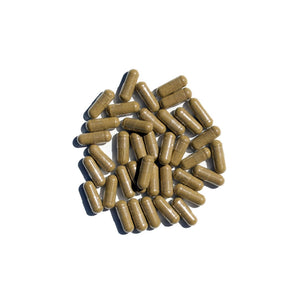 Vitamin A, Pantothenic acid, Zinc, Selenium, Turmeric (root), Artichoke (leaf), Dandelion (root), Burdock (root), Red Panax ginseng (aerial) extract, echinacea purpurea (herb)
Hush & Hush SkinCapsule Clear
Hush & Hush
I have been taking the hush&hush vitamins to focus especially on my acne. To be honest, I think those are quite expensive and I don't see quite a miracle from when I was taking a more cheaper brand than now. I believe you are paying for the brand itself and not for the vitamins. I hope this can help someone else who is thinking of buying it.
Haven't noticed a difference yet. Am reluctant to take them as well as smell is so awful and feel I can taste them in my mouth all day (masks not helping I'm sure either)
Has Really Helped!
I've only been using this product for a short time now, but I must say, it combined with my new skincare routine is doing absolute wonders for my skin!
Hush & Hush SkinCapsule Clear is a plant-based supplement geared towards helping to clear breakouts and redness.
CONQUER STUBBORN BREAKOUTS AND PUT YOUR SKIN ON THE PATH TO CLEAR
Helps clear up blemishes and skin imperfections

Reduces oil production with a unique mix of zinc and turmeric

Calms irritated and breakout-prone skin

Minimises internal skin inflammation, in turn reducing redness on the surface

Vegan, plant-based

Clean Clinical Vitamins®
 This skin balancing, anti-blemish supplement is formulated with clean, clinical, plant-based ingredients and botanicals to help reduce pore-clogging oil, soothe red and inflamed skin and lessen breakouts on the face, chest, back, and beyond.
Tried-and-true skin-perfecting ingredients, like antioxidant-rich vitamin A, skin-clearing pantothenic acid and anti-inflammatories such as zinc and selenium, work alongside herbs and botanicals to clear up clogged pores, diminish overactive oil production and bacteria and reduce inflammation in the skin for clean, clear, flawless skin.
Ideal for those with congestion or redness.
Contains: 
Vitamin A: antioxidant that converts to retinol in body to fight breakouts
Zinc: mineral clinically-proven to reduce breakouts by 60% and comedones by 23%
Turmeric: root that targets pores & calms skin
Pantothenic acid: proven to significantly reduce breakouts & blemishes within 12 weeks
How to use:
Take 2 capsules with food, preferably with your normal skincare routine.