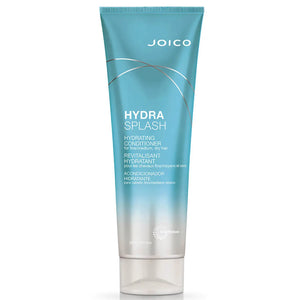 Lovely and hydrating
Use this for a dry scalp as the water is harsh in our area, lovely and hydrating, a little goes a long way.
Joico Hydrasplash Conditioner
Replenish your crown with the Joico Hydra Splash Hydrating Conditioner For Fine-Medium, Dry Hair. Working to ensure detangling is effortless, this ultra-creamy formula nourishes and hydrates the strands to reveal silky, soft and smoother hair.
Powered by Smartrelease Technology, the formula feeds nourishment to your strands, taking your hair care routine to the next level. Rosehip Oil and Keratin are delivered through a unique liposome system, working to repair, strengthen and protect your locks.
Infused with Coconut Water, the formula draws and locks moisture into the follicle, while Sea Kelp packs the conditioner with vital vitamins and minerals to promote strength. Lightweight yet rich, this conditioner delivers just the right amount of hydration, moisturising your locks without weighing them down.
A favourite amongst those with finer hair types, this weightless conditioner detangles even the finest strands, making hair care as easy as possible. This hydrating conditioner will soon become a firm favourite, leaving your hair soft and moisturised, with a natural shine.