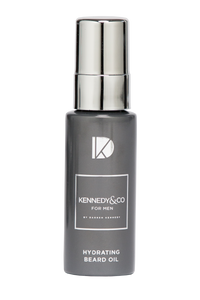 Sleep in this and you'll wake up glowing !!
I absolutely love this product. I have a hard time keeping it in my house as my husband loves it too!! I use it not only in my moisturizer during the day but also at night before bed. It sinks into the skin and you can feel it working straight away. My husband has really sensitive skin after shaving and this cools and moisturises his face. Another super product from Kennedy and co!!!
Double's as a great nighttime facial oil !
I go through phases when I let my facial hair grown longer and this beard acts as a great hydrator and keeps the hair texture looking good. BUT I actually use this oil more as a nighttime facial oil - two to three drops massaged all over my face before bed each night. It feels great and I love the spearmint scent.
This is an oil for moisturising and nourishing beardy hoomans, but it can be used by the beardless, too! It contains a mixture of botanical oils to soften, moisturise and hydrate skin and give your beard a bit of swish, too.
This product contains: 
Soothing botanical and essential oils
Cooling menthol to soothe skin in need of a bit of comfrot
Cedarwood to soothe and invigroate.
Beard-care is key, after all. Ideal for the hooman keen on looking their best.
How to use:
Dispense 2-3 drops on to the palm of your hands and gently massage into your beard. Lightly comb through for a smooth, gentlemanly finish. 
Vegan-friendly and cruelty-free!