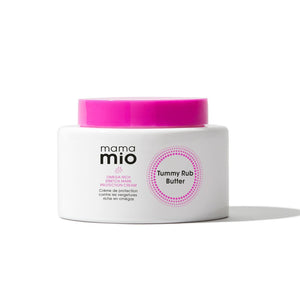 Lovely for an itchy belly
I have used this cream since my bump started to show. At the start I was using way too much and developed little spots on my chest which went away as soon as I reduced how much I was using, so a little goes a long way! Smells gorgeous and my belly feels lovely and hydrated, will continue using post parturition for a little while I would imagine.
Mama Mio Tummy Rub Butter (120g)
Mama Mio Tummy Rub Butter (120g)
Highly Recommend !
Honestly, this product is a god sent - really love the texture and that it easily evaporates into my skin. In my second trimester and so far no scary stretch marks ! Worth the price.
AMAZING!
Absolutely love this cream and so happy Skinnerd are stocking it. I have used through my first two pregnancies and just found out I am expecting again, so I will be stocking up.
This body-butter helps to diminish the appearance of stretch marks and increase skin's elasticity. This velvety butter is rich in natural omegas to instantly soothe dry, itchy tummies. Formulated to leave skin feeling stronger, renewed and protected from pregnancy stretch marks.     
This product contains:
Coconut oil as a natural aid to skin elasticity
Sweet almond oil to soothes delicate, sensitive skin
Shea butter to locks in moisture and helps protect skin
Vitamin E, an essential antioxidant to aid skins protection   

Ideal for expectant mums and suitable for use post-pregnancy, too!

How to use:
Apply twice daily, massaging into skin. Not for use on the face!
Pregnancy-safe, cruelty-free, vegan-friendly!