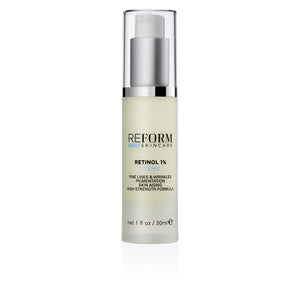 Love it
Feels and smells amazing. My skin feels firm in the mornings after using it the night before
Reform Skincare Retinol 1% Serum
A luxurious crème formulation to supercharge your skin with proven anti-ageing benefits. Restore a more youthful complexion and improve the appearance of wrinkles, pigmentation and enlarged pores.
Retinol is a vitamin A derivative that increases our skin cell turnover to promote the shedding of dead skin, helping to improve skin texture, acne scarring and fade hyperpigmentation.
Retinoids reduce fine lines and wrinkles by increasing the production of collagen. They also stimulate the production of new blood vessels in the skin, which improves skin colour. This superstar ingredient also works wonders for acne by keeping pores unclogged, resulting in fewer breakouts.
Our formulation also contains 10% Vitamin E to help nourish skin while Cucumber, Chamomile and Aloe Vera soothe and calm the skin, helping to counteract the irritation associated with using Retinol. This high strength formula is suitable for most skin types.