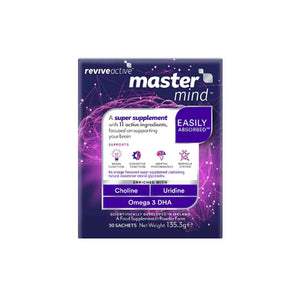 Revive Active Mastermind
Description
If you are looking to improve your overall brain health and brain function this may be the perfect choice for you.
Revive Active Mastermind is the fifth addition to the Revive Active brand. Mastermind is a complete approach to delivering key nutrients to help with brain function, cognitive function, mental performance and nervous system function.
It is a natural formulation which combines active ingredients which can play a huge part and vital role in mental performance, brain and cognitive function.
It is great for professionals as it helps with focus and performance, students as it helps with focus, study and exam preparation, parents as it helps them to juggle with the demands of daily life and seniors as it helps to support normal mental performance, brain and cognitive function.
Some of the ingredients in this product include Omega 3, vitamin C, vitamin E, vitamin B12, zinc and many more. The combination of ingredients used in this product is what makes it so advanced and ahead of its competitors.
It is gluten free and vegetarian.
Ingredients
Omega 3 DHA Powder (Algae Source) (MILK) (SOYA), Disodium Uridine 5'-Monophosphate, DL-Choline Bitartrate, Flavouring (Orange Flavour), Acidifiers (Citric Acid, Malic Acid), Colouring (Beta Carotene), Vitamin C (Ascorbic Acid), Vitamin E (D-Alpha Tocopheryl Acetate), Vitamin B5 (Pantothenic Acid), Zinc Gluconate, Vitamin B6 (Pyridoxine HCL), Folic Acid (Calcium L Methylfolate), Vitamin B12 (Methylcobalamin), Vitamin D3 (Cholecalciferol, Vegan), Sweetener (Steviol Glycosides).