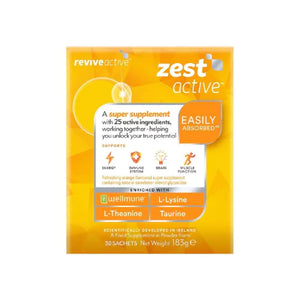 Revive Active Zest Active 
Description
Revive Active Zest Active
Zest Active is a super supplement with 25 active ingredients formulated for adults (aged 18 and over) who want to support their immune system and energy levels. Delivering multiple benefits in one easy sachet, every single ingredient was carefully selected to help you unlock your potential.
Taken first thing in the morning, every single sachet comes packed with ingredients such as Wellmune®, L-Lysine, L-Theanine and Taurine.
Supports:
Energy
Immune System
Brain
Muscle Function
Directions
Take one Sachet daily.
Take in the morning to receive optimal results.
Ingredients
Taurine, L-Glutamine, L-Lysine, Acidifier (dl Malic Acid), Flavouring (Orange), Vitamin C (Ascorbic Acid), Wellmune® Beta 1,3/1,6 Glucans, Colouring (Beta Carotene), L-Theanine, Sweetener (Steviol Glycosides), Magnesium Bisglycinate, L-Choline Bitartrate, Vitamin B3 (Nicotinamide), Vitamin E (D-Alpha-Tocopheryl Acetate), Vitamin B5 (Calcium Pantothenate), Manganese Citrate, Zinc Gluconate, Vitamin B6 (Pyridoxine HCL), Vitamin B2 (Riboflavin 5 Phosphate R5P), Vitamin B1 (Thiamin HCL), Chromium Picolinate, Folic Acid (Calcium L Methylfolate), Cupric Gluconate, Vitamin B7 (D-Biotin), Vitamin K2 (Menaquinone-7), Selenium Enriched Yeast, Vitamin D3 (Cholecalciferol) (Vegan), Vitamin B12 (Methylcobalamin), Sodium Molybdate.