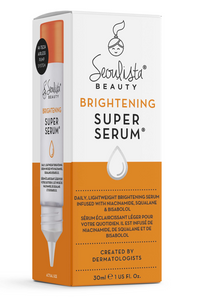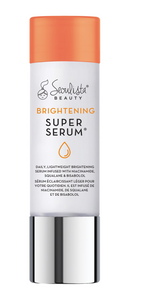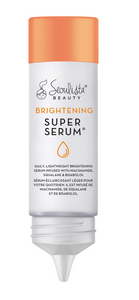 Seoulista Beauty Brightening Super Serum 30ml
NEW Seoulista Brightening Super Serum® is a powerful, lightweight serum infused with niacinamide, squalane & bisabolol to smooth, hydrate and deliver a more even-toned, radiant complexion.
R e a s o n t o b e l i e v e :
Formulated with niacinamide, which helps to smooth skin texture and improve skin clarity, anti-inflammatory squalane, which helps to hydrate and protect the skin barrier and bisabolol targets pigmentation and lightens dark spots for a more radiant, even-toned complexion. The innovative dispenser system prevents contamination from the air and allows for a controlled, targeted application.
K e y I n g r e d i e n t s : Niacinamide, Squalane, Bisabolol 
Bisabolol is an active derivative of chamomile, which has soothing, antioxidant, anti-aging, and skin-brightening properties. How does it work? Bisabolol helps inhibit melanin synthesis. Melanin is a pigment that gives us our skin colour. Certain skin conditions, excessive exposure to UV radiation and natural ageing can lead to the overproduction of melanin, which is called hyperpigmentation. By inhibiting melanin synthesis, bisabolol can help to reduce the appearance of dark spots on the skin, leading to a brighter complexion and a more even skin tone. In addition, as a potent antioxidant it works by neutralizing free radicals, the unstable molecules that contribute to the formation of premature wrinkles and fine lines on the skin. On a molecular level, free radicals damage important cellular components, and important cellular proteins like collagen. Damaged collagen is a major factor in the appearance of aging skin. Therefore, by using a topical antioxidant, such as bisabolol, the skin may be protected from the damaging effects of free radicals. How is it better than vitamin c? Both vitamin c and bisabolol perform a similar function on the skin, with the exception that bisabolol delivers on soothing and calming benefits for the skin, making it a gentler and more hydrating alternative. Basically, no more sticky, papery face post application.