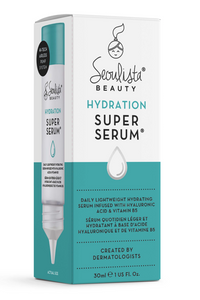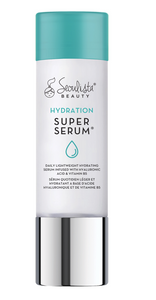 Seoulista Hydration Super Serum 30ml
NEW Seoulista Hydration Super Serum® is a powerful, lightweight hydrating serum infused with tri-molecular hyaluronic acid, squalane and Vitamin B5 to boost skin's moisture and hydration levels.
R e a s o n t o b e l i e v e :
Formulated with tri-molecular hyaluronic acid, antiinflammatory squalane and reparative Vitamin B5, this lightweight serum penetrates the deeper layers of the dermis to stimulate the production of collagen, whilst the larger molecules bind together to moisturise the skin's surface, for a plump, hydrated complexion. The innovative dispenser system prevents contamination from the air and allows for a controlled, targeted application. Truly hygienic, compact and portable in design, the packaging reflects the innovative nature of the product.
K e y I n g r e d i e n t s : Tri-molecular hyaluronic acid, squalene, vitamin B
There are three types of hyaluronic acid molecules that are formulated into skincare products: • Sodium hyaluronate • Hyaluronic acid • Hydrolysed hyaluronic acid All three hyaluronic acid molecules have the same hydrating properties and are humectants (moisture magnets), which is basically their superpower. Once you apply them to your skin, they have the ability to pull in any moisture from the surrounding environment and absorb it onto your face, locking moisture into both the top and deeper layers of the skin. How do they work? Sodium Hyaluronate – is HA in it's purest (salt) form. It has a smaller molecular size and so can penetrate the skin faster and deeper. Being water-soluble means, it can hold 1000 times its weight in water. Hyaluronic Acid - has a larger molecular size, which helps coat the top layer of the skin and helps prevent water loss, leading to better hydration Hydrolysed Hyaluronic Acid – acts as a sponge to help the skin retain water and therefore support the skin barrier