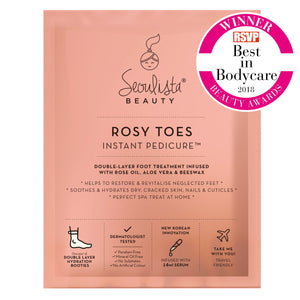 Seoulista Rosy Toes Instant Pedicure
Seoulista Rosy Toes Instant Pedicure
Great in-between salon pedi
Alway keep a supply of these find they soften and refresh my tired feet 😍
Seoulista Rosy Toes Instant Pedicure is a double layer foot treatment infused with rose oil, aloe vera and beeswax. This intensive foot treatment helps to restore and revitalise neglected feet, soothing and hydrating dry cracked skin, nails and cuticles. 
It's your at-home spa treatment, your way of treating your skin from top to toe... Literally! Suitable for all feet! 
Contains: 

Bulgarian rose oil: hydrating, nourishing 
Vitamin C: antioxidant
AHAs (alpha-hydroxy acids): exfoliating
Beeswax: nourishing
Aloe vera: soothing, hydrating
How to use: 
After washing and drying your feet, gently separate the booties and pop on the booties while you're relaxing. Use the paper strap to smooth them onto your feet, and secure by removing the backing. Allow the serum to infuse for 30 minutes before removing and disposing of them. Smooth remaining serum into the skin (no need to wash off). 
Extra tip - pop socks over the booties for a bit of extra cosiness.