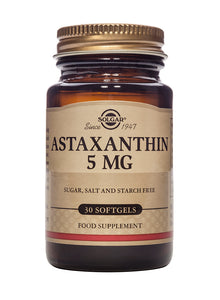 Solgar Astaxanthin Complex Supplement 5mg (30 Soft Gels)
Great result
I found the soft gels easy to sallow, they so far are good, starting to see my skin improve since taking them
Solgar Astaxanthin Complex Supplement 5mg (30 Soft Gels)
Solgar Astaxanthin Complex 5mg (30 Soft Gels) is a potent antioxidant that helps to fight free radicals and maintain a natural, healthy skin glow. Astaxanthin is classified as a xanthophyll, which is a carotenoid pigment. It is found in fish and algae and contributes to the natural color in many marine animals. 
Amount Per Serving
5mg of Astaxanthin (from H. pluvialis)
Other ingredients: Sunflower Seed Oil, Gelatin, Vegetable Glycerin. Contains naturally occurring carotenoids including Lutein, Canthaxanthin and Beta Carotene.
Free from: Gluten, Wheat, Dairy, Soy, Yeast, Sugar, Sodium, Artificial Flavour, Sweetener, Preservatives and Colour.
As a dietary supplement for adults, take one (1) softgel twice daily, preferably with meals, or as directed.