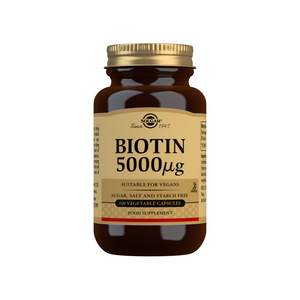 Biotin is a water-soluble B vitamin that contributes to several functions in the body including energy metabolism.
Perhaps best known for its beauty supporting benefits, a daily dose of Solgar's Biotin 5000 μg can help support healthy looking hair and skin. As the body doesn't make or store biotin, additionally, a daily dose of this B vitamin can help maintain the biotin levels your body needs.
Biotin:
Contributes to improvement of nails resistance
Contributes to maintenance of normal skin
Is necessary for healthy teeth, bones, hair and nails
Is necessary to maintain energy and general vitality
Contributes to normal functioning of the nervous system
All Solgar® products meet our industry recognised "Gold Standard" for excellence. Made using only naturally sourced ingredients and innovating since 1947, Solgar® is your perfect supplement to good health – 98% of Solgar® consumers recommend the brand. 
How to use: 

Take 1 a day 
Vegan-friendly, vegetarian-friendly, sugar-free