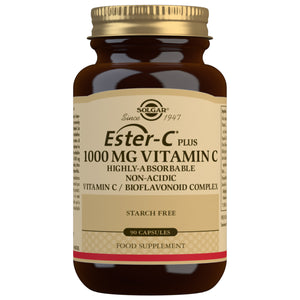 Solgar Ester-C Plus 1000mg Vitamin C (90)
Need all the vitamins
As a bride to be I want to look and feel as good as can be and the vitamins recommended to me have definitely helped me to achieve this in the lead up to the big day
Solgar Ester-C Plus 1000mg Vit C (90 Tablets) is exclusively formulated by Solgar® and provides a patented, pH neutral (non-acidic) Vitamin C that is gentle on the stomach.
The Vitamin C metabolites in Ester-C® positively impact the retention of Vitamin C in cells, providing additional benefits. A special manufacturing process is employed to form a unique calcium ascorbate metabolite complex.
This well-retained complex yields beneficial antioxidant and immune system support and incorporates natural bioflavonoids and acerola berry along with rose hips fruit powder.*
Amount Per Serving: 
Vitamin C (as Ester-C® calcium ascorbate) - 1000 mg
Calcium (as Ester-C® calcium ascorbate) - 100 mg
Citrus Bioflavonoid Complex - 200 mg
Acerola - 25 mg
Rose Hips (fruit) - 25 mg
Rutin - 25 mg
Other Ingredients: Vegetable Cellulose, Microcrystalline Cellulose, Silica, Vegetable Stearic Acid, Dicalcium Phosphate, Vegetable Magnesium Stearate, Vegetable Glycerin.
Free from: Gluten, Wheat, Dairy, Soy, Yeast, Sugar, Sodium, Artificial Flavour, Sweetener, Preservatives and Colour.
As a dietary supplement for adults, take one (1) tablet daily, preferably with a meal or as directed.
Suitable for vegetarians.