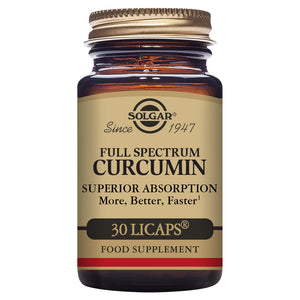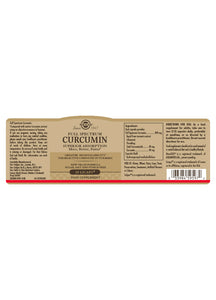 Solgar Full Spectrum Curcumin Supplement (30 Soft Gels)
Solgar Full Spectrum Curcumin Supplement (30 Soft Gels) has 185% better bioabsorption than native curcumin, which is the powerful "superfood" part of turmeric.
Solgar transforms poorly absorbed curcumin, from a fat-soluble to a water-soluble phytonutrient, making it immediately body-ready, faster absorbed and more active than ever before. It's so advanced, just 40 mg of curcumin in one softgel delivers the equivalency of 75 (100 mg) capsules of standardized curcumin extract.
Even more, in a recent clinical study, Solgar® Full Spectrum Curcumin was shown to be longer lasting so it stays in your system for a full 24 hours. Now, for brain, joint and immune health - Solgar changes what you believed was possible from curcumin... forever. 
Curcumin is naturally antioxidant and anti-inflammatory! 
Amount Per Serving: 

Total Curcuminoids - 48mg
Ingredients: Full Spectrum Curcumin (Polysorbate 80 [emulsifier]), Turmeric Extract (Curcuma longa [rhizome]), Gelatin, Vegetable Glycerin.

Free from: Gluten, Wheat, Dairy, Soy, Yeast, Sugar, Sodium, Artificial Flavour, Sweetener, Preservatives and Colour.
As a dietary supplement for adults, take one (1) softgel daily, preferably with a meal or as directed.