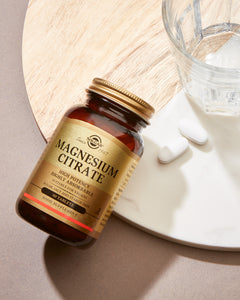 Magnesium (as citrate), Bulking Agents: (microcrystalline cellulose, hydroxypropyl cellulose, dicalcium phosphate) , Anti-caking Agents: (silicon dioxide, vegetable magnesium stearate), Glazing Agents: (hydroxypropylmethyl cellulose, vegetable glycerin (from palm kernel oil and coconut oil)), Cellulose Gum, Colour: titanium dioxide.
Daily Suppliments
I have been taking to Solgar Magnesium since about June of this year as recommended during my initial consultation. These in combination with a recommended skincare recommendation has helped to get my skin back in balance and break outs have reduced significantly.
Solgar Magnesium Citrate (60 Capsules)
Solgar Magnesium Citrate (60 Capsules)
Solgar® Magnesium Citrate (60 capsules) is a worldwide best-selling magnesium product. Magnesium is considered by experts to be a vital mineral required by every organ within the body. 
Solgar's magnesium product is available in a citrate form, which is a highly absorbable form of magnesium compared to the more commonly available form of oxides. Magnesium citrate is therefore ideal for those with digestive issues or those who do not absorb other mineral forms so easily. 
WHO IT'S FOR  
Hoomans looking to up their magnesium intake!

 

Hoomans who are feeling tired 

 
In addition to increasing magnesium rich foods in the diet, such as leafy greens, nuts & seeds, taking Solgar® Magnesium Citrate, 2 tablets a day, is a great way to increase your magnesium intake to support optimal wellbeing, including: 
The normal functioning of the nervous system

 

Energy release and reduction of tiredness and fatigue

 

Normal muscle function

 

The maintenance of normal bones

 

The normal psychological function

 
HERO INGREDIENTS  
Magnesium citrate

: highly absorbable (bioavailable) form of magnesium, a key mineral for our body 

 
HOW TO USE   
As a food supplement for adults, two (2) tablets daily, preferably at mealtime, or as directed by a healthcare practitioner. Do not exceed directions for use.
Vegan-friendly, dairy-free, gluten-free