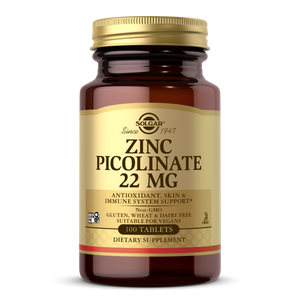 Skin has started to clear up, nothing tremendous but better than usually, however I've only been issuing for 2 weeks
Zinc and Vitamin C
I am taking zinc as I have read that if you take vitamin c you should also compliment it with zinc for your immune system.
Solgar Zinc Picolinate 22mg (100 Tablets) is a zinc supplement. 
Zinc promotes healthy skin, hair and nails and supports normal taste and vision. It exerts antioxidant activity and can support a healthy immune system. This formulation provides premium quality zinc as zinc picolinate.
Each tablet contains 22mg of zinc. 
Other Ingredients: Dicalcium Phosphate, Microcrystalline Cellulose, Vegetable Stearic Acid, Vegetable Cellulose, Vegetable Magnesium Stearate.
As a dietary supplement for adults, take one (1) tablet daily, preferably at mealtime, or as directed.