Getting The Best Results Out Of Bridal Bootcamp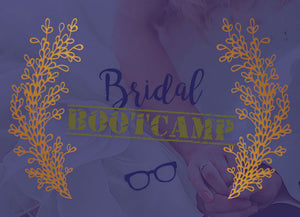 There are so many things to organise for a wedding, and maybe your wedding is something you've been planning since you were 7 years old (when you hung a white pillow case off the back of your head) or maybe it's not really your thing. Either way, it's important to feel your very best on your wedding day! After all, finding your hooman is something to celebrate, so you may as well celebrate with glowy skin. 
The important thing to remember that it is never too early or late to start. Healthy skin is for everyone at any stage, but if you have just said yes, it may be the kick start you need to get your skin care in tip top order: inside, outside and on top. 
What Bridal Bootcamp is
Welcome to our Bridal Bootcamp, your total skin health programme for your journey right from engagement up to your big day.
The key to our success for our brides/grooms/bridesmaids/mothers of the brides (and don't forget the Mother-in-Law to be) is the journey. As a member of Bridal Bootcamp, you will have your initial consultation followed by 3 follow-up consultations.
We recommend your initial is as soon as you say 'yes' to that special someone and that your final follow up is about 4-6 weeks before your wedding.


The Bridal Bootcamp plan
Our Bridal Nerdette Lisa, who is a bride-to-be herself, will take you right from your initial online bridal consultation the whole way through to your wedding day, providing you with all the support and knowledge you could possibly need regarding your skin.
The follow-up consultation throughout the programme allows our skin experts the time to really optimise results and introduce different levels of vitamins, home treatments and supplementation.
As your skin changes, your routine needs to change with it. On your initial consultation, you will be introduced to your core routine, supplements, cleanser, serum and SPF. During your follow-up consultations, we will address the skin's changes and alter the routine to suit this. Each follow-up consultation is as important as the last and your last one before the big day will focus on hydration and skin texture to ensure your wedding makeup sits beautifully your skin.
When you need us, we're right here 
We are here for you. After your consultation, we don't say goodbye to you. You can contact us all throughout your wedding planning journey and we will support you in-between your follow-up consultations also. Let us know how you are getting on, we love a good skin update! 
The non-skin perks
Now, we know it's not all about skin (apparently) so we have teamed up with some of the best in the wedding business to help you on this journey to wedded bliss. We have nutritional experts, photographers, honeymoon consultants, make-up artists, hairdressers, dental experts and wedding planners contributing to the Bridal Bootcamp and offering you the best tips and tricks in the trade. There might even be a sneaky discount here or there... ;)
Buckle those boots, fill in your pre-consultation form and make sure to check back here for lots of bridal content in all shapes and forms! 
Top tips to ensure that Bridal Bootcamp will get you results
Drink plenty of water - hydration from the inside equals hydration on the outside
Address your skin from our 360 degree approach - the skin is an organ, don't you know?
Follow your Bridal Nerdette's advice to the letter - she is the expert, after all
Address your nutritional needs with the help of our experts - feed from the root, not from just the petals
Manage your stress levels - cortisol, the stress hormone, can age you and give you breakouts 
Be consistent with your skin care and supplementation - Rome wasn't built in a day, friends