It's More Fun In The Phillipines With Honeymoon Expert Andre Bedford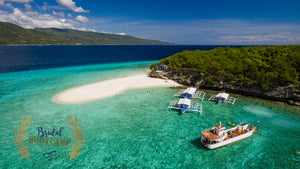 Island hopping the Philippines: I was expecting white sand beaches and clear blue seas but what I got was much much more. There are 7,000 islands in the Philippines which increases to 7,700 when the tide is out! So, there's a lot of exploring to be done. The three main geographical areas are Luzon, Visayas and Mindanao. My trip took me around the beautiful Visayas.
The Philippines is a modern place not like Thailand or Vietnam at all. Sleepy backwater, the Philippines is not. An island nation where each island has its own characteristics with many UNESCO heritage sites and turquoise waters teeming with sea life, it is.
Each island has its own beauty, sights and 'wow' factors and each one is totally different from the other. It is this that makes the Philippines such a great island-hopping destination. English is the common language spoken by all Filipinos. They are educated through English in school so conversing with them is not a problem at all. This in turn leads to a stress-free holiday. From the chocolate hills of Bohol and the tarsier to the amazing snorkelling and swimming with turtles, this is a holiday full of excitement.
The islands to visit
I visited three of the most popular large islands, Cebu, Bohol and Negros Oriental. We also took in the more remote islands of Pamilacan, Balicasag and Sigujor on day trips, so it was a jam packed 10-night trip.
Cebu is a busy spot with many international flights landing here. It's a great alternative flight route to Manila, best described as a city island. My advice is to stay a day or two to get over your jet lag and get going to some of the more remote islands.
Bohol is the 10th largest island and offers an array of attractions and is a great base to visit the outlying islands. Fabulous white sand beaches and crystal-clear waters, the famous Chocolate hills... Take the Loboc river cruise for a lazy lunch along the river or zip line over the river. Plus visit the world's smallest primate, the Tarsier, in the wild. There is so much to do here.
Pamilacan Island and Balicasag Island are accessed by boat trip from Bohol. I can't even begin to tell you how amazing this is. It offers supreme coral reefs the best I've ever seen, and I've snorkelled on the great barrier reef! It was like swimming in an aquarium there were so many types of fish. I felt like I was practically swimming Finding Nemo, clown fish and drop offs included.
The turtles in Balicasag are huge and estimated to be over 100 years old. Swimming with them and watching them eat and surface for air was unbelievable and I felt really privileged to be there with them. It's one of the top experiences of my life to date. The whole experience was just amazing, and a must-do.
Negros Oriental and the city of Dumaguete offers a fabulous base for diving, with many of the Philippines big dive sights just a short boat ride away. Two dives a day are easily achievable or just snorkel on the Coral reef sanctuary just a few steps from the shore and in front of the resort. The Atmosphere Resort here is really special, offering high-end accommodation in a tranquil setting on black sand beaches. This is also the best place to take a trip to swim with the whale sharks, as it's just a short 30 minute boat journey.
Siguijor Island has fabulous waterfalls and is just one hour by ferry from Dumaguete. We had great fun here rafting to the waterfall, swimming in the clear waters and swinging from rope swings.
The Philippines is an amazing diverse destination and I'd highly recommend it. No matter what the reason for your trip. It would make an amazing honeymoon or retirement adventure. Let me know if I've tempted you. 
Andre Bedford of Travel Counsellors
Get a free 20 minute honeymoon consultation by phone with Andre, where she can advise you on flights, airlines, monsoon or hurricane seasons, visas and vaccinations!
After your initial 20 minute free consultation, if you would like to continue working with Andre, there is a €50 deposit, redeemable on your final trip and when you book, you get a personalised travel tag and a Cleanse Off Mitt - wehoo!