The Biggest Trends In Bridesmaids Dresses Right Now With Alila Bridal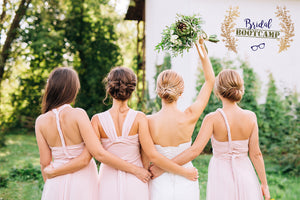 We know it can be very challenging to find one trend or dress that will suit everyone in your bridal party but good news is one of the biggest bridesmaids trends at the moment is small, intimate bridal parties! Keeping your bridal party small will straight away cut the battle of finding a dress that suits everyone in half. It ain't about quantity, it's about quality. 
When it comes to your bridesmaids, they will be the first thing your guests will see once the ceremony starts. They will set the tone of the wedding and are representing you as they walk down the aisle. They are an extremely important part of your big day so make sure to put a lot of thought into how they look. They are essentially an extension of you on the day so you want them to look amazing standing beside you and as they walk down the aisle. Plus, you'll have to look at those wedding photos for years to come!
So, let's get into the hottest trends in the world of bridesmaids...
Mismatch
Goddess By Nature Seduce Signature Multiway Gown (€285.00)

The mismatch trend is huge! It means allowing each member of your bridal party to choose a different dress style in the same colour palette or fabric to tie the look together. This trend will give your bridal party a bit more freedom to express their own personality and styles while ensuring they will all feel beautiful and confident in what they're wearing while still complimenting your wedding style.
Cold-Shoulder
Hayley Paige 5801 (Contact Alila Bridal for pricing)
This relatively new trend on the fashion scene is most definitely spilling over into the wedding world. A ultra modern twist on the cap sleeve, this would be the perfect choice for an modern bride.
Halter Neck
Hayley Paige 5811 (Contact Alila for pricing)
This universally flattering style is only getting bigger right now. We think it would be the perfect trend if you want your wedding to be super glam.
Bardot
Bariano Blush Sequin Dress (€335.00)
After this year's royal wedding, you can be sure that bardot necklines are going to be huge, for both brides and bridesmaids! A bardot neckline is a pretty alternative to strapless, a style we've seen over and over again. It adds a little extra coverage while still showing just the right amount of skin. We think this trend would be perfect for a vintage-inspired wedding.
High Slits
Girl In Mind - Blush Champagne Long Sleeve Gown (€49.99)
Add a hint of drama to your bridal party with a thigh-high slit. Super chic and sexy. We think this would be perfect for an edgy bride wanting to show her personality through her bride tribe.
One-Shoulder
Eliza & Ethan Dusty Rose Multi-Wrap Dress (€225.00)
A firm favourite year after year for bridal parties but for a reason. This super versatile silhouette works for every wedding style.
Sequins
City Goddess Peach Strapless Gown (€99.00)
A super glam option for the fashion-forward bride! We think this would be perfect for a celeb-worthy wedding!
Want expert advice on your wedding and bridesmaid dresses and accessories?
Or call Alila at +353 1 8069552!
Alila have been kind enough to offer an exclusive discount for the Bridal Bootcamp!
If you purchase your wedding dress with Alila Bridal, you will get 10% off 
or

 if you buy your wedding dress and bridesmaids dresses with Alila, you will get 20% off your bridesmaids dresses. Wehoo!