Words Of Wisdom For Planning Your Wedding From The Frog Prince Team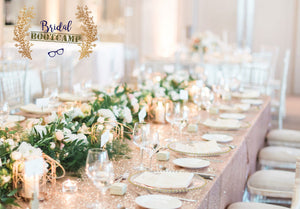 Wedding planning can be a stressful process, but only if you let it. Here are some pearls of wisdom we hope will help you as you start organising your special day:
Stay strict on your budget
If there's one thing we know, it's that wedding budgets can get quickly out of control if left unmonitored. If you rush into a booking or two here and there, even of something small, it can spiral and you can end up with a lot of easy-to-afford deposits that turn into a huge outlay towards the end of the planning. Set up an excel sheet or Google doc to keep track of everything. You will thank yourself in the long run!
Get everything in writing
A lot of vendors will send a contract or an invoice but if the arrangement is more casual than that, make sure to at least get an email confirming what you've agreed, the money exchanged and what the expectations are. It will protect you, just in case.
Not everyone works to your pace
If you're extremely laid back and easy going, vendors might need more urgent responses from you at times, so be aware of that. Likewise if you're very organised and expect an answer from someone five minutes after you send an email, be patient. Within reason, it'll all get done and balance out.
Not everyone wants to hear about it
We'll always be on the other end of the phone for wedding chats, of course! But not everyone will share that same level of excitement about your wedding, particularly if they are not attending. Without a doubt, if someone asks, share! Be excited! But if they don't ask, or the polite two minute wedding conversation is over, don't keep bringing up the planning.
Account for the unexpected
There isn't a wedding that takes place that doesn't run into unexpected extras. Whether that means costs that weren't originally in your budget, or things that might take longer than you anticipated, not everything can go exactly to plan. Prepare yourself for the unexpected and it won't take you by surprise.
If you have any other concerns about the planning process, chat to us! We've been there done that, so are full of nuggets of planning wisdom... Get in touch! 
Contact Frog Prince here for all of your wedding planning needs, including draping, decoration, production and more.