Your Wedding Prep Meal Plan: Week 1 & The Nutrients Your Body Needs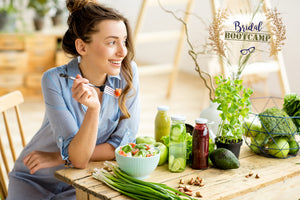 Every day we are bombarded by social media, television and magazines telling us about the latest miracle weight loss diet, 'vital' detoxes, or fat-burning pill. The biggest secret in the industry is that there is no secret. To put it simply, if you eat and exercise in a way specific to your own needs – you can achieve your fat loss, muscle gain and health goals.
That may not sit well with some people, especially those (and maybe even you) who have spent lots of money over the years on pills, powders and potions, trying to get rid of the jiggly bits, or just to look and feel a little better for a big occasion. Yes, you can lose 7 pounds in a week with a crash diet that leaves you hangry and miserable all day. However, it's more than likely that you will put all the weight back on once you resume your old bad eating habits.
We do things differently
Your Bridge Nutrition meal plan is an easy to follow, tasty, effective programme. It aims to guide you in your eating in the lead up to your big day. The meals, snacks, and, portions in your plan are designed so that you consume the calories, macronutrients and micronutrients that you need to achieve your health and wellness goals.
To understand your Bridge Nutrition plan a bit better, I will briefly take you though some of the terms mentioned above. This is so you can start to understand your own nutrition needs and help you make the correct food choices in the future.
Calories
This is a word that evokes different responses in different people. Confusion, fear frustration; sound familiar?! Put simply, calories (or kcal as it is written on packaging) is simply the amount of energy in a food.
Our body's need energy to function: to breathe air, to stay healthy, to digest our food, to think, and the most obvious one – to move around. We get this energy from our food and this is what calories are. Now, if we consume more energy (in the form of food and drinks) than our bodies need, it is stored as adipose tissue or as its more commonly known, fat. To get rid of this storage fat, you need to use more energy than you consume, i.e. burn more calories than you eat or drink. Don't worry if you don't understand how to do this, with the Bridge Nutrition calorie counter, we do all the hard work and you just simply follow the plan.
Macronutrients
There are three macronutrients: carbohydrates, protein, and fat. Every type of food is made up of one or more of these macros in different proportions. Macros have their own specific functions and roles in the body and all three contain calories. For this reason, they are required for health, growth, repair and development.
Carbohydrates

– Carbs have gotten a bad rep in recent years. However, it is scientifically proven that a low-carbohydrate diet should not be recommended to the general public. The human body's preferred source of fuel is carbohydrate. There are two main types of carbohydrates, complex and simple. The Bridge Nutrition plan focuses on healthy complex carbs, these will slowly release energy throughout the day to keep those sugar crashes away.

Protein – The world has gone protein-crazy and Bridge Nutrition is here to stop the madness! If you are guilty of spending big money on protein bars, cookies, chips, drinks, and even coffee (yes coffee!), then today is the day you stop. Don't get us wrong, protein is essential for toning up and recovering after a hard workout. However, we can get nearly all our protein from our food (with a

little

help sometimes from a carefully-selected protein powder). Protein is made up of amino acids, and these are the building blocks of our muscles. Protein has other important roles in our bodies such as fighting illness and transporting nutrients around the body.

Fat – Thankfully, the days of low-fat diets are

almost

behind us and are almost as unfashionable as other terrible 1980's trends like leg warmers and tight perms! To be at our healthiest we need fat in our diets, it carries out numerous functions in the body. You must understand that not all fat is created equal. There are

good

fats and

bad

fats. Foods that contain bad fats are, you guessed it, junk food, processed food, cakes, chips, anything deep-fried, doughnuts, pastries, take-aways, cookies and margarine spreads.

In your Bridge Nutrition meal plan you will get most of your fat intake from the healthy sources of fat; nuts, seeds, avocado, oily fish and extra virgin olive oil. However, foods that contain both bad and good fats are usually high in calories. You need to make sure you follow the portions outlined in your plan as you can still overeat on healthy foods!
Hydration
Staying hydrated is important for hitting your nutrition goals, losing weight, improving your mood, and staying healthy. Our bodies are made up of about 60% water and it is vital for almost every biological function. Studies have shown that proper hydration can aid better sleep, restore bodily systems, and help in the production of ample energy to get you through your day. If you are consuming fizzy drinks, energy drinking, or several teas/coffees per day, we recommend you switch to drinking at least 2 litres of water instead. Staying hydrated can also suppress hunger as often when we think we are hungry we are in fact dehydrated. So, keep that water bottle to hand during the day and keep hydrated!
Micronutrients
Micronutrients are vitamins and minerals required by the body for optimal health. Unlike macronutrients, micronutrients are only needed in tiny amounts to hit our requirements. Vitamins and minerals are incredibly important for health and wellness. Deficiencies can have lasting, detrimental health consequences in children and adults of all ages. To ensure you are getting all you require, you need to have a balanced, varied diet. The Bridge Nutrition meal plan is built around a wide variety of food packed full of these health-boosting nutrients, ensuring you will be healthy on the inside and radiant on the outside for your big day!
Your 4-Week Pre-Wedding Meal Plan
To ensure you are looking healthy and glowing on your big day I have put together a nutrient dense, tasty, and easy to follow meal plan. These recipes are designed with skin health boosting foods in mind and will take all the guess work out of what to eat in the lead up to your wedding day.

How to follow the meal plan:
Go to the Bridge Nutrition website and use the calorie calculator to determine how many calories you need per day (located near the bottom of the homepage). You will see calorie options for maintaining, losing, or gaining weight according to your personal details.

Chose the calorie option most appropriate to your pre-wedding goals.

You will see below that the meal plan has breakfast (300kcal), lunch (400kcal), and dinner (400kcal). These meals make up the bones of your diet and will come to 1100kcal of your required calorie intake.

Use the snack suggestions in the coming weeks to make up whatever number of calories you need once you take your meals into account 
Sharon needs 1900kcal per day in the lead up to her wedding. She follows the breakfast, lunch and dinner recommendations and then has 2 of the 300kcal, 4 of the 200kcal, or 6 of the 100kcal snack suggestions.
Plan out your chosen snacks around your meals for the week.

Write up your grocery list for your meals and snacks.

Start your 4-week plan to a healthier, happier you!
| | | | |
| --- | --- | --- | --- |
| Week 1 | Breakfast | Lunch | Dinner |
| Monday | Vitamin Boost Breakfast | Chicken Meatzza |  Salmon and Asparagus |
| Tuesday |  Nutty Banana Toast |  Salmon and Asparagus |  Chicken, Egg and Avo Salad |
| Wednesday |  Veggie Scrambled Eggs |  Chicken, Egg and Avo Salad |  Sweet Beef and Broccoli |
| Thursday |  Vitamin Boost Breakfast |  Sweet Beef and Broccoli |  Almond Chicken |
| Friday |  Nutty Banana Toast |  Almond Chicken |  Cheesy Stuffed Peppers |
| Saturday |  Veggie Scrambled Eggs |  Cheesy Stuffed Peppers |  PAM Salad |
| Sunday |  Vitamin Boost Breakfast |  PAM Salad |  Chickpea Curry |
Recipes
 Breakfast
Vitamin Boost Breakfast

Ingredients:

50g (1.7oz) porridge oats (uncooked)

100ml (3.4oz) Whole milk (dairy)

50g (1.7oz) blueberries/raspberries

Instructions:

Cook porridge oats as per package instructions

Add milk and berries

Enjoy!
Nutty Banana Toast

Ingredients:

1 slice whole grain bread

1 tbsp peanut butter

1 banana

Instructions:

Toast bread to desired level to toastiness

Spread with peanut butter

Slice banana and place on toast

Enjoy!
Veggie Scrambled Eggs

Ingredients:

2 medium eggs

10g (0.35oz) butter

1 tsp coconut oil

Handful of spinach, well chopped

1 tomato, well chopped

1 tsp paprika

¼ tsp salt and pepper

Instructions:

Whisk eggs, butter, paprika, salt and pepper in a bowl together well

Add vegetables

Melt oil in pan over medium to high heat

Add egg mix

Move continually until cooked

Enjoy!
Lunches & Dinners
Salmon and Asparagus

Ingredients:

2 tbsps. Of honey

1 clove of garlic

1-inch cube of ginger

1/2 lime

3 Salmon fillets (approx. 100g/3.5oz each)

2.5 tbsps. Of dark soy sauce

250g (8.8oz) asparagus

Instructions:

Preheat the oven to 400F/200C/180C fan/gas mark 6

Finely chop a clove of garlic

Finely chop about an inch cube of the ginger

Squeeze the juice of a lime into a bowl. Grate the zest into the bowl as well

Heat 1 tsp of coconut oil in a small saucepan

Fry the ginger and garlic for about 3 minutes (keep moving them about with a wooden spoon)

Add the juice and zest of the lime to the pan with the soy sauce and honey

Stir the sauce until it thickens and becomes sticky

In a frying pan sear the fish on each side (this is literally frying it on both sides for 2 minutes each side)

Place the fish in an oven dish and spoon the sauce over the top equally between the 3 fillets

Roast for 15 minutes, steam the asparagus for 4 minutes while the fillets are roasting

Divide into 2 containers and store as instructed
Chicken, Egg & Avo Salad

Ingredients:

2 medium eggs

1 chicken breast, diced

1 medium avocado

100g (3.5oz) mixed lettuce

115g (4oz) full-fat Greek yogurt

2 cloves garlic, crushed

2 tsp Dijon mustard

4 cherry tomatoes, chopped

15g (0.5oz) pine nuts

¼ tsp salt and pepper

1/2 tbsp coconut oil

Instructions:

Boil the eggs for 10 minutes, drain and leave to cool

Fry the chicken with the oil on a pan until cooked through, leave to cool

Toast pine nuts until they start to brown

Make the dressing while the eggs are cooking, mix the yogurt, Dijon mustard, garlic, salt and pepper

Wash the mixed lettuce and arrange in a big bowl with the tomatoes

Halve, deseed and slice the avocados and place bowl

Quarter the eggs and place in bowl with the chicken, mix well with dressing

Add pine nuts

Divide between 2 containers and store as instructed
Sweet Beef & Broccoli

Ingredients:

225g (8oz) beef steak, sliced into thin strips

350g (1.2oz) broccoli, chopped

1 tbsp sesame oil

30g sesame seeds

1 garlic clove, finely chopped

40ml (1.3 fl oz) soy sauce

27g (0.95oz) brown sugar

40g (1.4oz) honey

120ml (4 fl oz) beef stock/broth

1 tbsp cornflour/cornstarch

1 tbsp water

1/4 tsp salt and pepper

Instructions:

Place frying pan over medium-high heat, add oil and sear the steak until cooked all the way through. Remove from the pan and leave to one side

Add a little more oil to the same pan, then add the garlic and ginger, fry until soft

Add the sesame oil, soy sauce, brown sugar, honey, and beef stock/broth – stir until combined

Add the chopped broccoli

In a small bowl/cup bowl, combine cornstarch and water

Add to broccoli mixture – bring to a boil, until sauce has thickened

Add the beef back into the mixture, mix well

Divide between 2 containers and sprinkle with sesame seeds
Almond Chicken

Ingredients:

2 chicken breasts, sliced vertically into 5 slices each

60g/3.1oz almond flour

300g of broccoli

2 tbsp extra virgin olive oil

1/4 salt and pepper

Instructions:

Mix the almond flour with the salt and pepper in a bowl

Heat the oil in a large pan over medium to high heat

Dip each of the chicken pieces into the flour and coat well

Fry the chicken pieces until cooked through

When the chicken is cooking, steam the asparagus

Divide the chicken and asparagus between 2 containers and store as instructed
Cheesy Stuffed Peppers

Ingredients:

200g turkey mince.

2 peppers, halved and cleaned.

1/2 onion, finely chopped.

1 teaspoon of cumin.

1 teaspoons of extra virgin olive oil.

1/2 bag of whole grain rice.

1 clove of garlic, peeled and finely chopped.

1/4 teaspoon of ground coriander.

1 tablespoon of tomato purée.

6g sliced cheddar.

120ml of vegetable stock, made with 1/2 stock cube.

Salt and pepper.

Instructions:

1. Preheat the oven to 190 degrees.

2. Boil water in a medium pot and cook the rice for 10 minutes.

3. Heat 1 teaspoon of oil in a frying pan over medium heat.

4. Add the garlic, onion, and spices and stir for 30 seconds.

5. Add the turkey mince and cook until there is no pink left.

6. Add the tomato cook for 30 seconds (stirring all the time).

7. Add half the stock and simmer for 3 mins.

8. Add the cooked rice and stir well.

9. Arrange the halved peppers in a large oven dish (see picture).

10. Fill the peppers with as much filling as possible (flatten down with the back of a spoon and pile it on!).

11. Add the rest of the stock to the bottom of the dish and cover the dish tightly with tin foil. Cook for 30 mins.

12. Remove the tin foil and top each pepper with an even amount of cheese. Put the dish back in for another 5 mins.

13. Enjoy!
PAM Salad

Ingredients:

200g (7oz) prawns (pre-cooked)

1 medium avocado, diced

1/2 mango, diced

Handful of spinach, well chopped

8 cherry tomatoes, finely chopped

1 tbsp of extra virgin olive oil

15g (0.5oz) pine nuts

Instructions:

Toast the pine nuts in a saucepan over medium heat for 3 minutes, or until brown

Mix all ingredients in a bowl with olive oil and season with salt and pepper

Enjoy!
Make sure to come back next week for more nutritionally-dense, calorie-controlled recipes! 
Laura Kealy is a registered health and performance nutritionist with a Masters in Human Nutrition whose goal through Bridge Nutrition is to improve people's knowledge, understanding and appreciation of food – one meal at a time!