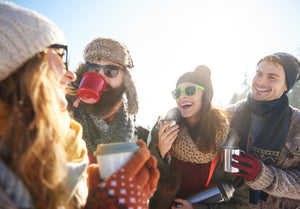 Our wooliest hats and scarves are out of hibernation, and even the Advent calendar isn't looking so distant now. Every season brings its own skincare challenges, but winter can seem to put more pressure on than most of the others. Not only are we dealing with central heating and frigid winds, but we're glamming up and down with incredible frequency as we dash between mince pie evenings, festive parties and nights out.
The last thing we need when we're this busy is our skin to be in anything less than peak condition. To that end, we've compiled a nerdie case-book of our top winter skincare picks, for keeping skin in tip top condition, or for soothing skin in need of a seasonal pick-me-up.
The party season is prime time for indulgence or meal-skipping, but either way you're probably not in your usual meal-time regime for most of the winter season. Advanced Nutrition Programme Probiotics are a good addition to your routine any time of year, if you're out of routine and in unusual eating patterns then they're a bit of a lifesaver. 
Some research suggests that healthy gut and healthy skin are increasingly linked, and taking probiotic supplements can help to keep the bacteria in your gut in a state of healthy balance.
This is ongoing, but there is some suggestion that probiotics can help reduce inflammation and might therefore be useful in treating acne or rosacea. Probiotics can also help to reduce the severity of the common cold - a handy bonus during the season of sniffling.
Another option would be Symprove - a water-based supplement containing multi-strain live and active bacteria which can help to balance the microbiome of your gut. As it's water based, it passes through your stomach and allows the good bacteria to colonise the gut where they are needed. A good option for anyone who has difficulty swallowing pills!
It's quite possible that the winter season has you suffering from winter skin - that is skin which might be feeling dry, irritated and uncomfortable as a result of dehydration and a skin barrier which is being stripped away by harsh weather conditions and rapid temperature changes.
You can read more about how to deal with dry winter skin here, but our nerdie suggestion is to up your intake of essential fatty acids - namely, linoleic acid (an omega-6 fatty acid) and the other alpha-linolenic acid (an omega-3 fatty acid). These are not produced in your body, but as the name suggests, they're pretty essential, so we've got to get them through diet or supplements!
Research suggests that essential fatty acids such as omegas can actually help to maintain and improve your skin's barrier (otherwise known as its lipid layer - the thing which helps keep hydration and good stuff in, and bad stuff out).
Feeding your skin's barrier with the good stuff leaves it smoother, softer, more hydrated and healthy in appearance by keeping the essential and useful stuff in and effectively getting rid of the bad.
Omegas are super helpful for dry and irritated skin - we are fond of calling them an ideal internal moisturiser for the skin. Don't forget, it takes 28 days to complete a skin cycle, so you need to be patient when taking them, but they're definitely a favourite recommendation of the nerds and nerdettes. 
If you're finding that your skin is dehydrated over the winter season, and also prone to redness, then ASAP Super B Serum might be ideal to slot into your routine as a serum, post-cleanse. It's hydrating as well as effective in visibly reducing redness. It's packed with niacinamide (vitamin B3) which is helpful in reducing pigmentation and stimulating collagen production.
Niacinamide is also helpful when it comes to skin hydrating, as it helps to improve the skin's production of ceramides, which lead to a healthier and stronger skin barrier.
A healthy skin barrier means that the moisture and hydration which your skin needs is locked in, and the TWEL (transepidermal water loss) is limited. More ceramides is good news for any hooman looking to combat dry, flaky skin patches!
It also contains crosslinked hyaluronic acid, which provides super hydration for thirsty skin. It can also diminish the appearance of pore size, and help to regulate sebum production which is good news for the oil-prone hoomans amongst us who are still feeling the effects of the winter.
It's suitable even for congested and acne-prone skin types which makes it a real superstar when it comes to winter skincare, making it suitable for practically everyone. 
If you're congestion-prone and spending a lot of time outdoors for work or leisure during the course of the winter, you might find your standard congestion treatment a bit too strong in the face of the extreme cold and weather - ASAP Super B Complex might be a more soothing option, and still packed with the good stuff to tackle congestion and keep your skin in good nick.
DMK Milk Cleanser is a super-gentle, hydrating cleanser. It's ideal for reactive skin, which is likely suffering more than usual during the winter months. It's suitable for hoomans dealing with dermatitis, eczema and psoriasis. If your skin is feeling dry or uncomfortable, this milky, cleanser could be a perfect treat; suitable for even the most sensitive skin. 
It contains white oak bark, which is often used to tackle skin inflammation, making it ideal for sensitive, or reactive skin. Among the other botanical bits in this formulation, it also contains birch bark, which is an antioxidant and has historically been used to soothe skin reactions. This milky cleanser might just be medicine that the doctors ordered for irritated winter skin.
If your skin is feeling the burn (the wind-burn, that is - we sympathise), then a soothing mask might be the move. IMAGE MD Restoring Post Treatment Masque is not just for those who had just had a skin treatment.
It's formulated with organic aloe vera, cucumber and organic pomegranate, making it a pretty luxurious treat for skin suffering from a real case of winter skin and needing some soothing and calming to look and feel its best. There are fewer feelings less holistic than emerging into a stinging wind with an already sore face, so this mask could be a bit of a blessing when we're in the thick of it.
Winter skin is no joke - it can be painful a well as being seriously inconsiderate considering all of our duties this time of year.
We've rarely got less time to keep our skincare ducks in a row than party season, but our skin is also rarely so hardworking. Keep up your essential fatty acids, keep your skin barrier strong and don't forget your SPF! It's a jungle out there. 
Send Us A WhatsApp!
For any Qs about how to keep your skin feeling great in winter, you can catch us on NerdApp! Just message us on +353 877070936 and one of our Nerdie team will be happy to share their tips and tricks!