Caudalíe - Nerd HQ's Top Product Picks From This French Botanical Skincare Brand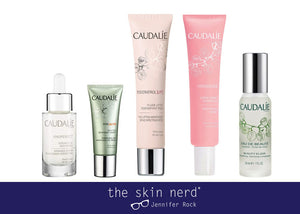 Have you heard through the grapevine about a French skincare brand based on the best parts of wine? Count us in. Caudalíe was inspired by vineyards… More specifically, on the skin-beneficial ingredients found in grapes and vines.
You'll find a lot of grape-seed oil, grape fruit water, polyphenols, resveratrol and other grape-based ingredients in Caudalíe's products. It's not just a gimmick – these ingredients can be fantastic for the skin and Caudalíe have expertly harnessed them into natural skincare that is actually effective.
We now stock over 20 Caudalíe products and they are available to all of you on The Skin Nerd store… NOW!
We do have some personal favourites in Nerd HQ though…
Even though brightening serums are usually targeted at those with pigmentation such as age spots, sun spots and post-inflammatory hyperpigmentation, everyone craves a glow. The key ingredient in Caudalie's Vinoperfect Radiance Serum is something called Viniferine. 
Never heard of it? Neither had we. It's a patented ingredient to Caudalie and they have exclusive use of it. It's an extract of grapevine sap that targets pigmentation and makes you radiant. If you don't like big claims without proof, think about this – the Vinoperfect Radiance Serum is one of Caudalíe's best-sellers. Nobody comes back for seconds if they didn't like the first serving.
Get your Vinoperfect Radiance Serum now
Resveratrol is one of the most well-researched potent antioxidants out there so a product that combines broad spectrum UV protection, resveratrol and hyaluronic acid has us nearly drooling.
Use it as a moisturiser beneath or on top of your usual SPF for double the protection. Texture-wise, it is fabulous as a makeup primer and because of the HA, you'll look like a small child after use.
Get your Resveratrol [Lift] Facing Lifting Moisturiser SPF 20 now
Who doesn't love a Spritz O'Clock?! At 30ml, this baby is handbag (and even large pocket) friendly. It is hydrating and antioxidant in nature and sets makeup like a champion whilst tightening pores at the same time. 
It contains glycerine and rose flower oil so it has slightly more clout than a plain water spritz and it gives the skin a soft, radiant finish.
 Get your Beauty Elixir travel size spritz
The Caudalíe Vinosource Moisturizing Sorbet reminds us of Asian water gel style products. It has a consistency like little else – on your fingers, it is a gel/cream but when you apply it to your face and rub it in, it turns to liquid.
It is incredibly hydrating and soothing and it is ideal for those who want a light boost of moisture prior to applying their SPF and their makeup. Of course, it wouldn't truly be a Caudalíe product without an antioxidant in it – it also contains their signature polyphenols.
Get your Vinosource Moisturizing Sorbet now
If you are trying to tackle dark circles, you're looking for an eye cream that mildly constricts the blood vessels under the surface of the skin. This eye cream contains witch hazel which does just that as well as soothing liquorice root extract, and vitamin E and polyphenols for antioxidant purposes.
Get your VINE[ACTIV] Energizing & Smoothing Eye Cream now 
As per the norm, you can catch us through nerdie virtual chat (the little bubble down the right-hand corner of the store), consult@theskinnerd.com or by phone at +353 1 5649 362 if you have any questions about the products... or anything else, really!