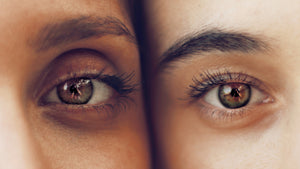 I scream, you scream, we all scream – do we need night cream? 
 
It's the question on many nerdie lips. When it comes to night cream, there is no one-size-fits-all answer.  
We often feel that your serums give you the nutrients and vitamins that your skin needs, and many hoomans do not need a night cream.  
However, if you suffer from dry skin, or desire the comfort of a night cream as part of your PM routine, then we understand. Sometimes the allure of a night-cream can be the signal our brains need to go 'ahh, it's nighttime. Time to go to sleep!' 
It's a similar story with eye-creams. Do we think that every hooman needs an eye-cream? No, not necessarily. If you're bringing your eye-safe serums right up around your eyeballs, then we don't think you necessarily need an extra step – if that extra step means you're duplicating ingredient, anyway.   
For night-time, there are plenty of products that we could recommend, so check out the nerdie guide below.  
 

Our favourite night creams
Our own little pot of joy, Skingredients Skin Good Fats, makes the list. Skin Good Fats is our super soothing, hard-working night-moisturiser. If you're prone to super dry skin, then we suggest it's perfect for use during the day under your SPF for an extra zip of comfort.  
Skin Good Fats contains ceramide NP, a patented anti-itch ingredient which helps to protect and preserve your skin barrier. With your skin barrier in good nick, it will lose less water through transepidermal water loss, keeping skin plump and hydrated, not just at night! 
Skin Good Fats also contains shea butter glycerides, which removes the comedogenic property from shea butter making it more suitable for a variety of skin types. This is super nourishing and genle on skin. It also contains drago-calm, an emollient which has antioxidant properties to help reduce the effect of irritants on the skin.  
Smooth on one pump of product and night in circular motions from the centre of the face outwards! 
For hydration, the Dermal Replenishment cream from NeoStrata is a true nerdie favourite (particularly of Nerd Ben – as many of you who had your consult with him can attest to!) It contains skin's amino acid building blocks and natural sugars called Natural Moisturizing Factor (NMF) to attract water and help strengthen the skin's moisture barrier. It uses peptides to help plump and firm the skin and diminish the appearance of uneven pigment and dark spots, and antioxidants to protect skin against the damage of environmental stressors.  
Suitable for hoomans with dehydrated skin, and hoomans seeking to prevent premature ageing. Also suitable for protecting and nourishing mature skin, and tackling pigmentation and skin laxity. 
Here's a moisturiser with a difference. This pinkish gel-formulation is oil-free, and super hydrating. It's suitable for all skin types, even the acne prone, and instantly refreshes and cools skin.  
It contains a host of B vitamins - vitamins B3, B5, B6, B9, and E, all of which work together to help alleviate dryness, and to help reduce appearance of wrinkles and soothe skin. 
It's also packed with peptides – another of our favourite things.
Roll call: oligopeptide-1, Oligopeptide-2, Polypeptide-1, Polypeptide-9 and Polypeptide-11, all of which help restore damaged skin barrier. 
This moisturiser contains Cumulative Hydration-Release Technology that instantly locks moisture. It's ideal for applying after serums to soothe skin for a good night's sleep.  
And overnight … 
It's not all about night creams. An overnight face mask (although not suitable for use every single day) can be a delicious treat for skin needing a bit of pampering.  
One of our favourite overnight masks to take to the pillow is YonKa Hydra N˚ 1 Masque. It contains a host of skin-friendly ingredients, like vitamin A for regeneration, repairing and restorative ingredients like jojoba and sandalwood.  
It's perfect for times in your life when skin hydration might have been zapped away, such as after periods of travel, or environmental stress! 
It provides time-released, deep hydration: +54% after 1 hour and +96% after 8 hours, and helps to calm skin which might be feeling irritated.  
Another overnight favourite. The great thing about the IMAGE Vital C range is that it's suitable for sufferers of rosacea, and pregnant hoomans too. It helps to energise, smooth and nourish skin overnight with a stable form of vitamin C, and sodium hyaluronate, a humectant to draw moisture to the surface of the skin.   
Use a cherry-sized amount from the neck up 2 or 3 times a week! 
So there you have it – a few nerdie night-time favourites! If you ever find that there's too big a gap between night-cream and zzz, then we sympathise. Hush & Hush Mind Your Mind capsules are a melatonin sleep aid which send you to sleepy-town, and have been well-loved by several member of team nerd! 
If you'd like more advice on the night-cream for you, then you can get in touch with your Nerd or Nerdette through consult@theskinnerd.com!