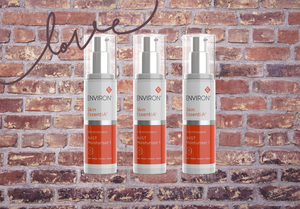 Environ Skin EssentiA Vita-Antioxidant AVST is one of the true favourites of the Nerd HQ. We preach about the benefits of vitamin A for your skin, and you can read all about retinol in our recent blog! 
Skin needs vitamin A, it's true, but skin can't handle us throwing the proverbial kitchen sink at it without a bit of build-up beforehand. That's where the Environ Skin EssentiA Vita-Antioxidant AVST comes in!
Why Does My Skin Need Vitamin A?

Vitamin A is the building block of healthy skin. It's a potent antioxidant which helps to control the production of sebum, diminish the appearance of fine lines and wrinkles, reduce inflammation, evens skin tone, regulates sebum production, and prevents breakouts. 
Vitamin A is one of the most important ingredients for your skin, and it's a nerdie priority when it comes to our Nerd Networkers.

What is Environ AVST?
Environ Skin EssentiA Vita-Antioxidant AVST Moisturiser 1 is the first in a step-up system which gradually introduces more vitamin A to your skin in increasing amounts. It's like strength training, but for your skin - so no dodgy elastics required.
The Environ Skin EssentiA Vita-Antioxidant AVST Moisturiser is a vitamin-rich moisturiser (or serum, in our eyes), which contains larger amounts of vitamins with each step up. It's ideal for hoomans looking to combat ageing, and to give their skin a wide range of vitamins and nutrients, and start their vitamin A journey - one of the most important ingredients for the skin, in our opinion.

Environ Skin EssentiA Vita-Antioxidant AVST is composed of a step-up system of 5 levels. 
The gel, level 1, and level 2 are all safe for use during pregnancy, but none of the other levels are recommended for use while growing a mini-hooman!
You can't purchase AVST without first attending one of our online consultations, at which your Nerd or Nerdette will unlock the AVST range if they recommend it for you!

However, your Nerd or Nerdette will only unlock one level at a time - and you must finish a full bottle of AVST 1 in 12 weeks in order to be eligible to purchase AVST 2, and this will carry on as you progress up the levels. This is to minimize the chance of your skin reacting negatively to the increased levels of vitamin A - and the reason that you have to return to AVST 1 all over again after a prolonged break.
It's a game where the prize is super healthy, resilient skin!
Why Should I Continue Increasing My Level of AVST?

AVST is a step-up system, with increasing levels of vitamin A - the more vitamin A your skin can handle, the better, and the more effective the product can be in improving the condition of your skin. 
As well as vitamin A, AVST contains vitamin C, peptides and antioxidants, all of which contribute to reducing the appearance of ageing in the skin, and is helpful when it comes to tackling sun damage in skin, too!

What About After AVST?
Home-rolling, or dermal rolling with the Environ CIT is another step along the AVST journey. 
Home-rolling comes when you're a little more advanced in the programme, generally when you have used two bottles of AVST, and your skin is happy and strong and vibrant as Ben says, as it is a form of cosmetic needling which it is possible to do at home!
Home-rolling is the process by which we needle the outer layer of the skin with a home-rolling device (no deeper than 0.3mm!). It helps with Collagen Induction Therapy (CIT), by helping the products to more deeply penetrate your skin! 
You can watch our Nerd Network Exclusive Facebook Live all about home-rolling here!
When To Use AVST

You can use AVST after cleansing - Environ call it a moisturiser, but in the Nerd Network, we prefer to call it a serum! We suggest applying it after cleansing, in two pumps, as your first serum post cleansing, both AM and PM!

Since it's super potent, you need to monitor its shelf-life, as it can become less effective after 12 weeks open. 
If you're curious about AVST, you can get in touch with your Nerd or Nerdette to discuss it by emailing us, or sending a message to NerdsApp on +353  877070936!