Expert Tips For Using Skingredients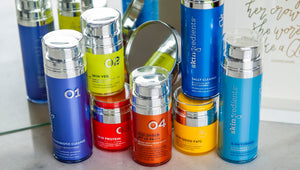 As a Nerd Networker, you already know that you're supposed to precleanse before cleansing and that you gotta cleanse for a full minute. It's nice to have these reminders on the Skingredients packaging… But maybe you're looking for that little somethin'-somethin' more, the insider knowledge, the "secret Starbucks menu" of the Skingredients range.

Seeing as we trust that you will only use this knowledge for skin-good rather than skin-evil, we are going to share Team Nerd's expert tips on using Skingredients.
How Best To Apply Skingredients
If you are struggling to spread your Skin Veg or simply want the maximum results from your Skin Protein, here's our tip: apply half a pump to a pump, depending on your skin's needs, while your skin is still a touch damp. We don't mean sopping wet, as this will stop the products from penetrating.

When you apply products while your skin is a smidge more moist, your products lock in this moisture and will naturally spread more easily than if you were applying to bone-dry skin.

Mixing your products together will help them to slip-slide across your skin better too, so pop that Skin Veg into the Skin Protein in your palm and don't fret about it. It genuinely won't make a difference to your results. Skin Veg is a pre-serum, in that it will help all products after to penetrate into the skin better but this will work even if you mix it with other products.
Using Skingredients On Your Body
You can opt to get specific skincare for your body - in fact, there are results-driven body products we love, like the Environ Derma-Lac Body Lotion and A, C & E Body Lotion.

Seeing as we try to use what we can from our face, neck and decolletage on the rest of our body as often as possible, Skingredients was formulated with this in mind.

Have you got chicken skin, or KP (keratosis pilaris)? It usually appears as small red bumps across the back of the arms or along the thighs and is the result of an ongoing problem with the skin's keratinisation process. Salicylic acid is known to be a KP buster so crack out that Sally Cleanse, massage it in for a minute (or two, as your body's skin is slightly thicker) and rinse it off, or apply it as you would a Sally Micro-Mask (more on Micro-Masking later).
Both Sally Cleanse and A-HA Cleanse are ideal for exfoliating that body-ody-ody, particularly pre and post fake tan so lash it on as you would a shower gel, massage (or leave it sit) for a minute and rinse it off for smoothy, smooth even skin.

For many of us, bacne (back acne) and bum spots are a reality. Zap those Franks with Sally Cleanse - massage into your back or bum, being careful about drippage - NSFW but it needs to be said that exfoliating cleansers cannot touch sensitive areas. Again, leave it sit for a minute - we go with while our conditioner is in - and rinse it off thoroughly.

If you're in a pinch, Skin Good Fats is phenomenal on dry, cracked hands, elbows, knees and heels - but only if you're in a pinch, because it is feckin' pricey as a body lotion, we'll admit that.
Pro Micro-Masking Tips
We hope you know all about using Sally Cleanse and A-HA Cleanse as Micro-Masks, leaving them on for 2 and 7 minutes respectively once a week for a turbocharged exfoliation. If not, get doing it!

Nerdie bit: Why not longer than these times? Cleansing agents are not designed to be left on the skin for a long time, and the longer you leave an acid on your skin, the more of an effect it will have… Which isn't always a good thing! Leaving Sally or A-HA on yourself for longer than recommended by us… A recipe for a damaged barrier or even irritation.

Did you know that you can also use PreProbiotic Cleanse as a Micro-Mask, albeit a soothing, balancing one? If your skin is annoyed, itchy, irritated, dehydrated or feeling a little tight or hot, pop on PreProbiotic Cleanse on cleansed skin for about 20 minutes. Those adorable, helpful probiotics get to work to rebalance your skin. Give it a go - we really like it.

If you are very well-acquainted with acids and like an AHA-BHA combo... We're going to let you in on something you can do if you promise to go slow and patch test first. Mix Sally Cleanse with AHA Cleanse and cleanse or Micro-Mask (for only 2 minutes) with it for brightening, spot-ousting and the supreme exfoliation.

Make Your Makeup Sit Like A Dream
We recommend ½ a pump to one pump of Skin Veg on a day to day basis but we've had a few makeup artists mention using 2 pumps of Skin Veg, allowing it to sit on the face for 5 minutes, and then applying makeup.


It's plumping, hydrating and basically works like a mini sheet mask to give you the ideal canvas for your art.

Your Eyes & Lips
Skin Veg, Skin Protein and Skin Good Fats are all ocular-tested and approved for use around the eye area… So if these buddies contain the same ingredients as your eye cream (vitamins A, C & E, pro-collagen peptide, ceramide NP and antioxidants galore), you can let go of your eye cream and just make sure to bring them up around your eye area.

Ditto for your lip contours, but do be careful. Skingredients is tasty but definitely not edible.

Using PreProbiotic Cleanse As Your Powder Exfoliant Base
As PreProbiotic Cleanse is mild, you can use it to mix your exfoliating powder with. For example, mix your usual amount of Dermalogica Daily Microfoliant with a small amount of PrePro to give the exfoliant better glide, or to do a slightly deeper cleanse!
If you want any advice on introducing Skingredients to your current routine or how you're currently using Skingredients, book in for a
Skingredients follow-up consultation
(or mail us, call us or get onto us on Nerdchat).