How To Pack Skincare For Travelling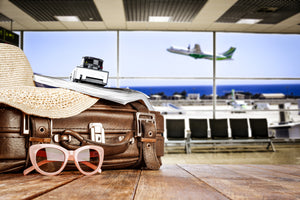 It's that time of year again! Most of us have pulled out the suitcase and are about to rummage through everything we own to prepare for our Summer holidays. The packing process for most of us can be a bit of a struggle... And that's only the clothes! Are you wondering where to start when it comes to what is best to bring with you in terms of skincare for travelling?
Although there could probably be a separate small suitcase just for all of the skincare products that could be brought along on our holidays, there are some specifics that are an absolute must! We all want to look and feel our best while away having some well-earned "me time", so let's make sure the process is as uncomplicated as possible when it comes to skincare.
Packing your skincare
One tip before we get into the specific products to bring on holidays is to make sure to know what your allowances are for your flight. As many of us have come to roll our eyes at, there are stricter restrictions almost every year when it comes to liquids on flights. Minimalism is key in this circumstance!
Putting product into travel-sized containers is normally a good solution. However, always remember that decanting your products containing active ingredients into containers can actually make them less effective as they will be exposed to oxygen and light. This is particularly pertinent when it comes to vitamin C, a notoriously finicky vitamin, but could also be said of vitamin A and exfoliating acids. Try to transfer your skincare products into airtight containers to minimise the oxygen causing degradation of the active ingredients within your products. These type of affordable containers can be found on Amazon or Ebay - search for "airless pump bottle"! 
So let's start with what not to bring with you. If you happen to be going on a sun holiday or to a tropical location (lucky you!), ditch your acids for a while. These acidic products would be the like of your toners, stronger, exfoliating cleansers and treatments that contain glycolic, lactic, or salicylic acid for example. These types of products tend to photosensitise the skin, which in turn makes it way more susceptible to light-related damage.
Cleansing on holidays
We may be biased, but the Cleanse Off Mitt (€5.95) is the first essential! Having one tucked away in your carry-on will be a lifesaver, trust us. Most flights leave you feeling a little grubby in general and normally there's not a whole lot you can do about it until you land.
As you know, the Cleanse Off Mitt only needs water to give your face a good cleanse and freshen you up before you arrive at your destination.
Cosmetic makeup can dehydrate the skin and the low humidity on flights can easily exacerbate this skin dehydration, so you're better off having your Cleanse Off Mitt and a fresh face for the purpose of the flight. Going makeup-free means no faff when it comes to popping on your in-flight sheet mask.
If you don't want to bring both your treatment (active) and nourishing (inactive) cleanser with you, just bring a nourishing cleanser, like the

 

Biofresh Ultra Delicate Cleansing Milk

 

(€18.00). With probiotics and nothing even remotely harsh, it's ideal for gently cleansing while you're abroad. 

Keeping your skin hydrated & healthy
Whilst flying, we also recommend the super nerdie tip of using a hyaluronic acid sheet mask to keep the skin hydrated in the low-humidity atmosphere. We rate the Seoulista Super Hydration Instant Facial (€9.00) and the IMAGE I Mask Hydrating Hydrogel Sheet Mask (€9.00). Stock up on a few to bring with you to tackle and soothe any holiday skin woes you may have - sheet masks are super travel-friendly but they do count towards your liquid allowance. 
Guzzle down water to keep yourself hydrated from within - unfortunately, the cheeky G&T whilst you jet over the sea does not count - and bring a good, hydrating lip balm (like the IMAGE Ormedic Balancing Lip Complex, €25.00), because chapping is likely. 
If you are looking to bring just one serum on holidays, bring your vitamin A serum (whether it's Environ AVST or something else), as vitamin A serums tend to be simultaneously hydrating, protective and correcting. On top of that, UV light depletes our skin's own stores of vitamin A! Remember that vitamin A can photosensitise the skin so you need to be very vigilant with your SPF. 
Alternatively, if you're only going for a few days, leave your vitamin A serum at home and bring a serum that contains a tyrosinase inhibitor. Tyrosinase is an enzyme that plays an important role in the production of melanin and tyrosinase inhibitors make us less likely to become pigmented. IMAGE Iluma Intense Brightening Serum (€54.50) and Neostrata Enlighten Illuminating Serum (€44.00) both contain ingredients that help to stop pigment from forming or worsening.
This combination of products will ensure your skin stays hydrated on the flight and throughout your vacay, as the Yanks say!
Sun protection on holidays
When you are travelling away to the sun, always remember that you will be exposed heavily to UVB rays - so protect yourself.
Take a holistic approach to sun protection: wear UV-protective clothing if possible, stay covered and out of the sun as much as you can and wear SPF across everywhere that will be exposed and reapply every 2 hours. A big sun hat will make you look very glamorous and mysterious and will help to protect your delicate visage from those damaging rays too. 
The SPF you've been recommended on your consultation is absolutely kosher to use on holidays, but make sure the factor is enough for the region you're in. If you want a Nerd-approved body SPF, the IMAGE Prevention+ Daily Ultra Sheer Spray (€41.00) is fantastic, transparent and super easy to apply, even on wriggly little ones.  
If the worst does occur and you get sunburned, go and get yourself an aloe vera based aftersun product. The higher the aloe vera content, the better, but most aftersuns will do the job. You want to avoid anything oil-based or heavy, as this will trap the heat in the burn, so stick to just a classic after sun. 
Natural yoghurt can help due to the probiotics within it but avoid the sour smell by giving the burn a mild compress with your probiotic cleanser mixed with water and gently rinsing it off thoroughly.
Skin tips for on holidays 
Collect up any skincare samples you have to cut down on luggage weight 
Opt for a mineral powder rather than a liquid, as it may stand up better against sweat and will provide additional SPF protection on top of your SPF 
If you're in an accident-prone family, bring along your Environ Colostrum Gel to help with healing of any scrapes, cuts or grazes 
Big sunglasses that cover the sides of your eyes are fab for ensuring that this delicate area is fully protected from the sun 
Have specific queries about travel skincare and advice on what to do with your routine coming into the Summer? 
Book in for your follow-up consultation to update your routine and get the best results possible.