How To Stop Makeup From Caking: Tips From A Pro Makeup Artist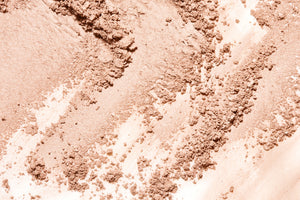 Healthier skin usually means that your makeup will sit better, without settling into pores, dissolving due to excessive oil production or clumping in dry patches. However, it's all about the technique and making sure you're using a formulation that works with your skin, your skincare and your life.
Long gone are the days of sticking with one foundation or powder for life. With the amount of variety available, there is no reason why you shouldn't be ecstatic with how your makeup looks, and we've got some tips from professional makeup artist and expert Nerd, Ben, to stop your makeup from caking or sitting weirdly.
Tips to stop makeup from caking
Why does makeup cake?
"Makeup can cake if the formulation is poorly designed, if the formulation is unsuitable for someone's skin type, or if a non-buildable foundation, such as a full coverage, matte finish foundation, is applied too thickly," explains Ben. "It can also cake if the foundation isn't set properly".
Ben's preferred foundation is a buildable one, and although he personally loves a dewy, glowy finish, even sheerer, buildable foundations can be made medium coverage and matte, if you use them correctly.
The Fuschia Loose Mineral Powder (€28.50) is a fully mineral, easily buildable foundation powder with a dewy finish, ideal for spot concealing too. Ben's trick is to buff the powder across the full face in circular motions with a large, soft, fluffy brush.
In areas that you want more coverage, tap on another coat with the brush aligned flat to the face, so the brush head is touching your face vertically. Minerals are often magnetic so this is a great way to build coverage where you need it without causing caking.
You can also use a smaller fluffy concealer brush to add coverage directly to spots, age spots and discolouration. Set it with a light dust of a mattifying powder like Jane Iredale PurePressed Mineral Foundation (€35.00).
When building coverage, how can you stop it from becoming cakey?
"This really depends on the foundation. Some foundations need to set by themselves before you build another layer, whereas some will be removed if you go over them after they have set. Trial and error is the best way to figure this out, depending on the foundation that you use. Lower-quality formulations have a poorer longevity and cake faster than higher-quality formulations."
Those of us who are very oily know that primers and mattifying products are often no match for the midday oil-slick. Ben has a slightly unusual tip for this: "If you are oily, I recommend that you prime the skin with an absorbent powder rather than a primer."  
Additionally, your SPF can double as your primer. "Priming the skin with something like the Murad City Skin Age Defense Broad Spectrum SPF 50 (€59.50) creates a beautiful base for your makeup to sit on so it stays in place longer."
When it comes to powders, the association that many have is that powdery, dry finish. Ben says this is no longer the case: "mineral powders that are free from talc won't leave the skin looking dry and powdery". Additionally, he suggests finishing your look with a Spritz O'Clock like the Ella & Jo 3 in 1 Hyaluronic Skin Mist (€20.00) to hydrate the skin and help powders fade into the rest of your base.
What effect does skin dehydration have on makeup application and the completed base?
Ben reiterates the nerdie advice that we cannot shout loud enough. "A well-prepped skin that is full to the brim with hydration and with healthy oil production will be the best base for a beautiful foundation. Your makeup will only look as good as your skincare routine is strong". True that.
Tips for application to stop makeup from caking
For creams and liquids, Ben adores fluffy brushes for an airbrushed finish

He also loves makeup blenders - if he uses them, he uses the blender after he has applied the base so the base isn't absorbed into the porous sponge

Fingers aren't a faux pas: simply smooth the product over the skin and pat to build and blend

There's a time and a place for all of the above techniques and whatever you find fun and gives you the look you want is the right one for you

Our full range of skin-beneficial makeup, including full-coverage liquid foundations, tinted moisturisers, powder foundations, blush, eyeshadows and more, is waiting for you.