Masking: Can Masks Be Used On Your Whole Body?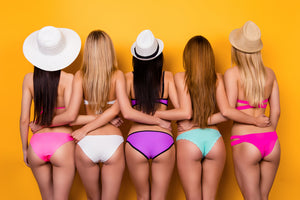 In Nerd HQ, masking is considered an extra rather than an essential in your skincare routine… Nevertheless, to let you in on a little secret, we do all adore them, every single one of us.
Masks often contain higher levels of actives plus a delivery method or carrier that ensures they work hard. Sheet masks have their occlusive sheet to lock in the essence or serum, clay masks have the added benefits of clay, and other potent masques contain combos of ingredients such as retinol and glycolic acid for the maximum short-term results SHARPISH. 
You know that you can use them on your face… But what about your body-ody-ody? 
The short answer: there's definitely no reason that you can't mask on your body, and there are certainly benefits. 
Decolletage: The Neck and Chest 
The neeeeeeck! It can give the game away and a bit of peely-brightening prior to that cleavage reveal can do wonders. 
If you have uneven skin tone on your neck and chest that you want to look a bit fresher as quickly as possible, opt for the Murad Intensive-C Radiance Peel (€62.50). It has a massive 10% glycolic acid plus vitamin C and does a bit of a tingle on the skin, so don't be surprised by that. 
For those looking to plump lined or lax looking skin in one night only, we rate the IMAGE Vital C Overnight Hydrating Masque (€78.00). It feels cooling on the skin and it's a lightweight sheet of moisture that plumps like little else due to it's gel texture, minerals and vitamin C. Nerdie tip: pop this bad boy on your forehead too for a visible difference in dehydration lines. 
The Back
You are not alone and many find that even though they've sorted facial acne, they still suffer from bacne from time to time and even "bumne", painful, red spots on their bum. 
Thankfully, these areas are usually hidden but if you're about to be in a bikini or in a lingerie photo shoot (go you), you may feel a bit self-conscious. 
For bacne, as it is not near any *ahem* sensitive areas, you can go hard at it with salicylic acid. If you have the odd, large and painful spot across your back, we recommend spot-masquing with IMAGE Clear Cell Clarifying Acne Masque (€37.50).
With a combo of salicylic acid, glycolic acid and kaolin clay, it draws out impurities and reduces spot size admittedly very quickly. Apply it directly to the spot and leave on for 10 minutes (5 minutes for darker skin) and remove it thoroughly with a wet Cleanse Off Mitt. 
If you have a larger area of blackheads or smaller lumps and bumps, particularly after fake tanning, we'd point you towards a Skingredients Sally Cleanse (€25.00) Micro-Mask all over. We will admit, unless you have a clean back-tanning tool or a bendy stick with a Cleanse Off Mitt on the end, you may need a partner for this one. 
Cleanse your entire back for one min, and then apply Sally Cleanse to the area. After 2 minutes, remove it thoroughly with water. We mean thoroughly!
Remember - when you're using salicylic acid anywhere, you do need to be extra vigilant with your SPF so don't skimp on sun-creaming your back if it's exposed… We mean it. 
The Bum 
We like to keep it real, so we're gonna. We. Get. Bum Spots. It's a thing. It's not a fun thing, but it's life sometimes, and even if you're on it with your Skin Accumax and seeing great results, sometimes warm weather or non-breathable underwear will undo your hard work. 
Because of the proximity of your bum to very, very sensitive areas, you need to be very careful about drippage and make sure you're looking back at it in a mirror before even attempting to mask your bum. 
A clay mask is ideal because clay as a substance is soothing so cover those cheeky cheeks in the Caudalie Instant Detox Mask (€25.00). The bentonite clay will help to dry up any spots, the coffee bean extract will stimulate the area (which may even help to temporarily reduce the appearance of cellulite) and it also contains papain, an exfoliating enzyme. 
Enzymes are much milder than acids so slightly safer for your bottom! 
If your posterior is a bit dry, flaky or in need of hydration, we're going to suggest something that is a bit ridiculous but will be effective. You can slap a sheet mask on each of your bum cheeks. Is it cost-effective? No. Certainly not. 
However, it will be an instant, quick boost of plumpness to get your behind looking more in front. A more cost-effective route is to apply your sheet mask to a cheek AFTER you've already used it on your face, slathering on the remaining essence in the packet.  
Our nerdie bum sheet mask rec is the Seoulista Super Hydration Instant Facial Sheet Mask (€9.00). 
The Knees, Back of Ankles and Cracked Heels 
This one is a Nerd HQ goldie: peel them. Apply the REN Glycolactic Radiance Renewal Mask (€32.00) to your knees, back of your ankles and cracked heels (fab before tanning) and leave them for 20 minutes to 30 minutes. The skin on your body is thicker, so you'll get away with leaving it on for that amount of time! Rinse it off thoroughly and you'll be left with silky soft, well-exfoliated skin. 
The nerdie opinion
Masking your body is not an essential, and applying your usual products to these areas will give you fab results! Buuuut if you want an instantaneous, short term result, masking your body will give you that "oooooh" feeling you're looking for!