Mineral Makeup Video: What Is Mineral Makeup?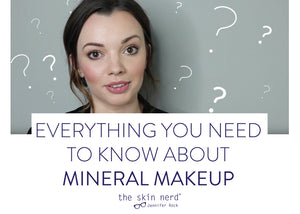 Mineral makeup is a pillar of a nerdie regime. Skin health needs a 360˚ approach, from what you're putting in to fuel you to what you're putting on top in terms of makeup. Naturally, you've all had many questions about why mineral makeup is preferable to cosmetic makeup and what exactly the benefits for your skin will be. 
In this video, Jess, our resident makeup guru in Nerd HQ, explains the difference between fully mineral makeup and "mineralized" makeup, discusses who can use mineral makeup and outlines all of the fabulous things that minerals can do for your skin, including its antioxidant properties and the coverage it can provide you with. 
We hope it answers all of your questions about what mineral makeup is! 

Shop our "On Top" products including our full range of mineral makeup here!
More mineral makeup videos coming soon, including swatching of Jane Iredale and Bellápierre mineral makeup and demos of the makeup being applied!