Mamma Mia: Mother's Day Skincare Gift Guide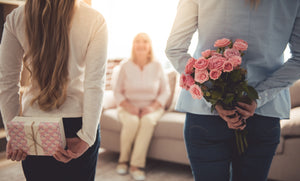 Mums work hard and so it is our job as the children, friends, brothers and sisters of mums to help them to play hard, at the very least for one day a year. Shopping for mums is difficult work, especially if they are a bit… particular.

We've taken the hard work upon ourselves and pulled together a list of our favourites for gifting on the Nerd Network store.
For the mum who loves a cream:
This rich, luxurious moisturiser contains plant extracts that behave as vitamin A does in the skin for a plumper, younger-looking visage without the potential irritation that can come with a vitamin A. Bakuchiol is a compound found in the Psoralea corylifolia plant which can stimulate the skin's production of collagen, the protein that keeps skin structured and the very one that we make less of from the age of 25 onwards.

It's formulated for mature skin and is particularly faboosh for those with drier skin but honestly, all mams will adore it - mams have the psychological inclination for a cream.
For the mum who knows her stuff:
This is a space where we can be honest. Some people have mums who just like to be impressed - fancy mums with nice handbags. The Vita-Peptide Eye Gel is the skincare equivalent of bringing a neurosurgeon partner home.

Environ is a big name in skincare, so name-loving mothers will be hooked automatically and by God, will they be hooked by the results.

Packed with peptides, vitamins and antioxidants, this plumping, soothing eye gel works to improve the appearance of wrinkles, fine lines, puffiness and dark circles.

Suitable for mums of all ages but not suitable for mums-to-be due to the amount of vitamin A!
For the mum who can't be wooed with skincare:

Some mammies are just not into skincare, no matter how much you explain how important it is. However, two things are certain when it comes to mums: they love things that smell good and they are always trying to up their sleep game.

Cue the REN & Now to Sleep Pillow Spray. This mist contains soothing frankincense, anxiety-reducing lavender and hops oil to enhance sleep quality. It is pure relaxation and calm in a spray and even mums who do like skincare will not turn their nose up at this.

The perfect gift for those who are feeling fairly frazzled, especially as part of a care kit.
For the mum who wants you to buy her the basics:

Are you one of those people who likes practical gifts? Is your mum? The Pestle & Mortar Pure Hyaluronic Serum is a skincare staple for literally everyone and chances are that she is familiar with it already.

It's simply pure hydration, won't irritate the skin and works for the oiliest of oily hoomans to the driest of the dry. It's vegan-friendly, cruelty-free and Irish-owned, so you don't even have to be careful when it comes to woke mams either.
For the tactile, open-minded mum:
Jade rolling is all the rage and yet it is not a new concept at all as jade stone has been used in traditional Chinese medicine for hundreds of years. Jade stone rollers are suitable for everyone, all ages and all skin types and simply require a few minutes of rolling it across your face and neck to reduce puffiness and boost general radiance.

Pair it with a facial oil and you've given the gift of a skincare ritual, not just a routine!
So, there you have it - some Mother's Day gifting inspo to make your life a little bit easier. As always, if you have any queries or questions, pop us an email at consult@theskinnerd.com or call us at +353 1 5649362.