Mythbusting: Toothpaste And Baby Oil And Your Skin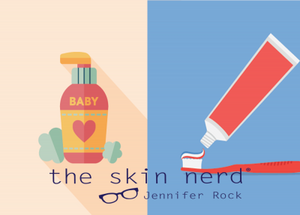 UPDATED: 7/4/20
Not all at-home beauty treatments are food-based. I cannot believe my eyes when I see some of the things that people are putting on their faces. At least when it comes to food facials and sugar scrubs, they have the excuse of saying "I only use natural skincare, what's natural can't harm the skin" - this is not true, and I personally am not anti-chemical (for example, water is a chemical).
It's incredible that people use unguents and potions that were not designed for skin and were probably not tested on skin, and expect them to work on the skin without it any damage. I'd like to reiterate that skincare is dermatologically tested and meticulously developed for a reason, as the skin is a delicate and highly reactive organ.
The chemicals found in cosmetic, cosmeceutical and pharmaceutical products are added in finely-honed amounts so that they are safe for skin and can make a difference!!
Mythbusting: Toothpaste on Spots
Applying toothpaste to spots is one of the oldest skincare tricks in the book and I think everyone who has struggled with spots has heard of it before.... "thanks, Auntie Breda, I'll be sure to try it". It is suggested that you apply toothpaste liberally directly to the spots and leave overnight.

Bust That Myth:
The reason that toothpaste is known as an "acne cure" is because it used to contain a chemical called triclosan, which killed p. acnes (AKA the acne bacteria) and brought down inflammation. However, most toothpaste no longer contains triclosan because it was found to possibly be harmful to humans.
When tested on animals, it caused fluctuations of their hormone levels, affecting their metabolism. The results were not conclusive in humans but it still meant that triclosan was removed from many major toothpaste formulations. Some toothpastes also contains alcohol, sodium bicarbonate and hydrogen peroxide AKA hyper-drying ingredients that will reduce spot size.
The Nerdie Judgement:
Skip the toothpaste as a spot treatment. Yes, when treating a breakout, you are looking to dry out the spots. However, when there are drying chemicals in spot treatments (salicylic acid, lactic acid, benzoyl peroxide and the gang), they are usually suggested alongside a product that will rehydrate the skin, like an intensive serum, and the ingredients are measured to a skin-safe level. Toothpaste will leave your spots flatter but cornflakey and may actually make them redder because of its irritating ingredients.  
If you're trying to find a more suitable spot-busting treatment, I might recommend Skingredients Sally Cleanse, with 2% salicylic acid - the highest percentage available in Europe. You can apply it directly to a spot and leave it for three minutes to 'zap' that spot, before cleansing it away!
You could also try out the Environ Focus Care Clarity+ Sebu-Clear Masque, if your Nerd or Nerdette suggest it might be a good choice for you! This mask contains a trio of spot-busting ingredients, including lactic acid, for hydrating exfoliation, salicylic acid for deep pore penetration, and tea tree oil, which is anti-bacterial and anti-inflammatory, and helps with healing, too.
Mythbusting: Baby Oil as a Moisturiser
Baby oil is quite a common beauty hack, whether it's as a pre-cleansing oil step or as a general, post-shower body moisturiser. Most baby oils are 98% mineral oil with 2% fragrance. The steps for using baby oil as a moisturiser are simple: apply oil to self, rub it all in!
Bust That Myth
Dermatologists and skin experts fall on both sides of the spectrum on this one. Some people think mineral oil is not harmful to skin at all and actually acts as an occlusive AKA keeps moisture on the skin and forms a barrier on the skin. Others believe it to be drying on the skin and too heavy to do any good. If we look at the facts, mineral oil is:
non-comedogenic, meaning it cannot clog pores... the molecules in mineral oil are actually too big to penetrate the skin
emollient, meaning it makes the skin soft, moisturised and smooth
inert... it won't react with other ingredients in your routine
It is widely accepted that a hydration product that doesn't penetrate into the skin fully is essentially pointless when it comes to making a long-term difference in the skin. Sorry, not sorry.
Mineral oil on its own can be particularly bad for oily skin as it will just sit on the skin heavily, trapping the oil onto the skin. Oil + oil is not always bad, in fact, ensuring that the skin is properly hydrated and not dry is a great way of controlling oil production, as when skin is dehydrated or dry, your skin adapts by producing more sebum. But as we know, mineral oil does not actually hydrate the skin.
The Nerdie Judgement
Do mineral oil's negatives outweigh its positives? I don't think so... but there are plenty of relatively affordable, skin-healthy oils that you can use instead, like hydrating jojoba oil, calming sweet almond oil or, Instagram's favourite, coconut oil. I don't recommend using these oils directly on your face, as they may be too heavy for your skin type and a serum will be much more effective!! However, not all mineral-oil-based products are created equal! Some of my favourite Environ products include mineral oil, but due to the quality of the brand, never cause congestion.
If you're looking for a skin-friendly moisturiser, I'd suggest NeoStrata Bionic Lotion, a big nerdie favourite around here. It contains 12% gluconolactone to gently exfoliate and 3% lactobionic acid to give back to the skin. It's suitable for even super sensitive skin, including eczema and psoriasis!