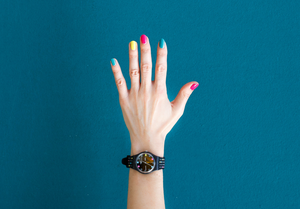 Ask and ye shall receive! You had some nerdie questions that needed answering, and we've answered them! We've chosen a selection of questions which we hope will cover some of your queries! 
Feel like your questions aren't answered? Get in contact with Team Nerd at +353 877070936, or email us at consult@theskinnerd.com!   
1. Sensitive, dehydrated skin. What's the best cleanser, serum and moisturizer please? 

When it comes to sensitive skin, we're often talking about skin which tends towards reactiveness. This can often go hand in hand with dehydrated skin, as reactive skin in general may have difficulties with its barrier, which keeps irritants out and locks moisture in. Dry and dehydrated skin can often be mistaken for one another. It's important to note that dehydrated skin is skin which needs more water, but dry skin is skin which needs more oil (sebum). Dehydration is a skin concern which anyone can face during their life, but dry skin is a skin type which you're born with, or can come about as we age or due to hormonal fluctuations 
When it comes to dehydrated skin, upping your intake of essential fatty acids is the best thing you can do for your skin – it's step 1. You can do this by increasing the amount of omega-rich fish in your diet (mackerel is a favourite), nuts and seeds, too! You can also supplement your routine with supplements like Solgar Omega 3-6-9 Supplements, which can help to boost your hydration levels.  
For dehydrated skin, drinking plenty of water is also super important! A dehydrated body can result easily in dehydrated skin. You skin barrier is trying at all times to keep hydration inside the body, and irritants out. If you have dry skin, or a skin condition like acne or eczema, then it means that your skin barrier is already a little bit weakened. A strong skin barrier is important when it comes to keeping your skin hydrated.   
Your skin might also have become dehydrated by sun exposure, drinking alcohol, hot showers or central heating. Hyaluronic acid is a humectant ingredient which can help to draw moisture to your skin, but be careful - it can also draw moisture from the lower levels of your skin so it's important to keep your internal hydration levels up, too.
For sensitive, dehydrated skin, there are plenty of products which would be usable.  
A gentle cleanser, like Skingredients PreProbiotic Cleanse, or Environ Youth EssentiA Low Foaming Cleansing, is ideal for skin which is in need of extra gentle treatment. PreProbiotic Cleanse is hydrating and suitable for use morning and evening, while Environ Youth EssentiA Low Foaming Cleansing also contains hydrolyzed oats to hydrate skin and diminish the appearance of fine lines.  
For serums, something truly gentle such as Murad Sensitive Skin Soothing Serum could be a good choice. It contains hyaluronic acid to draw moisture back the skin, and to soothe tightness and irritation. It's even suitable for use after cosmetic procedures, and if you were to fall prey to a sunburn. 
If you wish to use a moisturiser to soothe your skin and lock in hydration, we have a few suggestions here, too. Skingredients Skin Good Fats is particularly formulated to be helpful when it comes to soothing dry, reactive skin in need of some TLC. It contains a patented anti-itch ingredient, as well as soothing shea-butter glycerides. It's also packed with ceramides, to help keep your skin barrier in great shape.  
There's also the Neostrata Restore Bionic Face Cream with gluconolactone and lactobionic acid. It's so gentle that it can even be used after cosmetic procedures, and is non-comedogenic, too.   
Both of these moisturisers help towards healing your skin barrier and boosting its health, to avoid hydration leaking away.  

2. Can you recommend a good eye cream around the 40-50 euro mark to increase hydration and reduce puffiness and fine lines around the eye area for somebody in their late 20s early 30s?
As a rule, we're not evangelical about eye creams, and in a lot of cases, don't find that we need to recommend them. Eye creams often contain the same ingredients as serums, so we like to start there. If you are looking to reduce puffiness and fine lines around the eyes, we have some suggestions.  
For puffiness, it might be an idea to get your hands on a jade roller. We're very attached to ours in Team Nerd, and you might have caught our recent Facebook Live where Jennifer took a few minutes to show her favourite jade rolling techniques. (Coincidentally, if you'd like to know more about jade rolling, let us know and we will put it on our list of things to bring to you soon!) Jade rolling can really help when it comes to lymphatic drainage - the process of diffusing the build-up of fluid around the eyes which can lead to puffiness. You can find the best way to use your jade roller as part of this Facebook Live! 
We also believe that as long as they are safe for use around the eyes, you should bring your serums all the way up around your eyes as they are so packed with vitamins and important ingredients for your skin in concentrated doses that it is a shame to skip your eyes with them! It's important to check the packaging to see if they are suitable for use around the eye area before you go ahead happily applying. 
A vitamin A serum like Skin Protein is suitable for use around the eyeballs (but not in them) and contains a pro-collagen peptide as well as the vitamins within which can help to reduce the appearance of fine lines and wrinkles.  

Eye creams often contain the same vitamins, peptides and hydrators, so it's often a duplication of ingredients. It's important to check the ingredients to make sure you're getting true value from your chosen products.   
If you're already bringing your serums up around your eyes and feel you need an extra hand,, then we would recommend the IMAGE Vital C Hydrating Eye Recovery Gel, suitable for sensitive skin, or the Environ Youth EssentiA Vita-Peptide Eye Gel.  
3. I have noticed with the sun I have gotten sun damage freckles on my nose especially and was wondering is there a way to help ease them?  
Wearing a broad-spectrum sunscreen is a good way to avoid getting sun-damage, because unfortunately freckles are a form of sun damage. We can call them by another name - solar lentigos.  
Murad Rapid Age Spot Correcting Serum is helpful when it comes to helping dark spots, age spots and hyper-pigmentation to fade, by virtue of a hydroquinone alternative. It can work fast, too - you might be able to see results in as little as a week.   
Solar lentigos need Vitamin A, too – we might recommend the Environ Skin EssentiA Vita-Antioxidant AVST Moisturiser range, which is packed with more than just vitamin A – it's got antioxidants galore. It's perfect for skin which might be dealing with oiliness or even dryness, as it's suitable for all skin types. 
Make sure you pat on our SPF all over the areas of your skin which are exposed to sunlight, including the areas which are freckled already.  
If you find that your skin becomes easily light-damaged, make sure you wear a very high factor, the correct amount of it, top it up every 2 hours or after being in water, stay in the shade wherever possible and cover up with a big hat.  
4. What's the best way to clean the Environ Cosmetic Roll-CIT? 
You can watch a Facebook Live on this roller here, featuring the lovely Ben! To clean this product, rinse it under hot water for one minute before and after using. Once a week, fill the Environ Cosmetic Roll-CIT container with a sanitising solution (like denatured alcohol, or Environ's own Environ Roll-Cit Cleaning Solution). Submerge the roller in this solution for ten minutes, remove, leave to dry and discard the fluid! It should always be dry before using again.  
5. When can you progress from Environ AVST 1? 
You can progress to Environ AVST when you have used a bottle of AVST 1 in 8 weeks, and if your skin is happy with it! It's Environ's recommendation, which we follow! 
6. A lot of active products seem to flare up my rosacea, or make me break out in spots, even those with PHAs that seem to be suitable for sensitive skin. Should I just stick to the basics that I know work and not try anything new? 
Finding the correct products for rosacea-prone skin can be trial and error sometimes. The IMAGE Skincare Vital C range was created with rosacea in mind by the founder Janna Ronnert who suffered from rosacea herself. This range might suit your rosacea-needs, but we would suggest that you send your Nerd or Nerdette a message, as they would be more than happy to talk you through your rosacea queries and help to find the products which suits your skin.  
We hope we've answered your nerdie qs - don't forget, you can always contact your Nerd or Nerdette for individual advice, and we'd really urge you to do so! Our nerdie ears are open and waiting.  
You can get in touch with us at consult@theskinnerd.com!