New IMAGE Vital C Products for 2018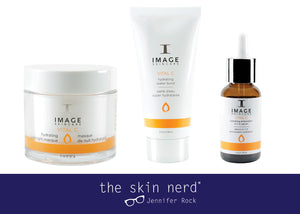 As you may be aware, IMAGE Skincare have launched some new products in the Vital C range, two brand spanking new ones and one that was preexisting but is now reformulated. Naturally, Team Nerd is absolutely abuzz about them... Here's the nerdie lowdown on these products which are available on the site now! 
This product is legitimately like nothing I've come across before. It is not a serum nor is it a moisturiser. It is like a cross between a cream and a gel with tiny bubbles of hydration throughout. You can't just gently rub it on your skin as you would any old serum or cream. You have to give it a brisk rub in or some taps to activate the hydration bubbles. It sounds nutty but it is not, I have felt it. 

It contains magnesium ascorbyl phosphate (highly stable and water-soluble form of vitamin C), tocopherol (pure vitamin E) and hyaluronic acid so you get a jolt of hydration and antioxidant benefits. 
This should be applied between your serums and your SPF and allowed to penetrate properly prior to using your SPF. Apply about a cherry-sized amount to your face, neck and décolleté for the best results. 
This would be a fantastic product for those with dry or dehydrated skin, dull skin or mature skin but it is nearly a bit of an all-rounder. We would have more congested team members who didn't see any extra spots pop up when using this so it is even suitable for the spot-prone. 
This thick, creamy masque contains blue green algae extract which works within the skin as a retinoid would to plump out wrinkles and hydrate the skin. There's also hematite and malachite, stone minerals that act as antioxidants and reduce the appearance of lines and wrinkles. It ain't Vital C without some vitamin C in there somewhere and in this you'll find tetrahexyldecyl ascorbate, a form of vitamin C that boosts the production of collagen supposedly more than l-ascorbic acid.... Big claim. 

You've got some hyaluronic acid and tocopherol in there too for EXTRA hydration and antioxidant power... It is like a smoothie for the skin, nearly everything you need in one pot. 
You can use this anywhere between once a week to three times a week for maximum benefits. It should be a thick, even layer on your skin when you apply it so about a cherry-sized amount. It is not as scented as other Vital C products but you'll still smell like a fizzy drink factory... In a good way. 
Janna Ronert herself described this as a "multivitamin cocktail booster" for the skin and this reformulation has put it in a serum rather than a booster type add-on. In this powerhouse serum, you'll find retinyl palmitate (vitamin A), 3 forms of highly stable vitamin C (tetrahexyldecyl ascorbate, magnesium ascorbyl phosphate and sodium ascorbyl phosphate, tocopherol (vitamin E), red rose wine complex for polyphenols that scavenge for free radicals and green tea extract which is a highly potent antioxidant. 

Wow. Enough said. This will brighten, plump, prevent pigment, protect the skin and stimulate collagen production. Wow. Just wow. The original A C E serum was much beloved but I think the new texture will really pull many others on board. 
This could benefit literally anyone... The only people we'd warn to approach with caution with regard to this product are those who are congestion prone. Vitamin C and vitamin E are both known as ingredients that can congest the skin, that's why. As with any serum, you should apply 3 drops, one to your forehead and one on each of your cheeks. 
You can mix this with the vast majority of serums rather than layering, if that's what suits you best. 
Please note: to discuss adding the A C E Serum to your routine, please contact us through nerdie virtual chat (the little bubble in the bottom right hand corner of the screen) or email us at consult@theskinnerd.com.
We hope you adore the new products as much as we do!