Our Top Nerd HQ Dermalogica Picks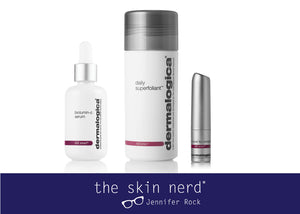 Dermalogica is how many first get into active skincare and it is the first brand that many Irish skin therapists are trained in so Team Nerd are well acquainted with it. 
It is a classic, the staple of many a skincare routine, and it ain't for no reason. Dermalogica, like ourselves, began on the basis of education first. Founder Jane Wurwand created the International Dermal Institute in California to address the fact that many US therapists never further their training. Whilst teaching at her own institute, Jane realised that the emphasis in the skincare industry was on aesthetics over skin health and so decided the only thing to do was to create her own range of products. 
...Thus Dermalogica was born! 
Dermalogica, as mentioned, deals in the more active side of skincare, in high quality vitamins, acids and other fab ingredients. Because of this, it is available through consult rather than open to all - you can contact us through nerdie virtual chat, consult@theskinnerd.com or mention it at your follow-up if you're interested in adding Dermalogica to your routine. 
Our Top Nerd HQ Picks From Dermalogica 
Dermalogica Daily Superfoliant 
We heart the Daily Superfoliant as it is versatile. You can use it alone as a cleanser in a pinch, you can add it to masques or cleansers to up the ante, you can use it post-cleanser as an additional exfoliating step... It's a heavyweight, alright. 
It is not a physical exfoliant even though many say it is! When the powder hits water, it becomes a foam/cream hybrid. It is fuelled by lactic acid and enzymes to prompt your skin to slough itself off. 
Many ask the difference between this and the Daily Microfoliant (which we also stock). The Superfoliant is tweaked for city dwellers who would be up against a lot of pollution, which, as you must know, can mean more free radical damage to the skin. 
There's activated charcoal in there to draw out impurities, niacinamide to help brighten the skin and red algae and tara fruit extract to defend the skin from pollution. 
Dermalogica Biolumin-C Serum 
Vitamin C is a core skingredient both internally and topically here at Nerd HQ so naturally, we love this. This is a new release from Dermalogica and it contains two forms of vitamin C that we haven't come across a lot before: ascorbyl methylsilanol pectinate and aminopropyl ascorbyl phosphate.
From our research, the benefits of these forms of vitamin C is that they are highly stable (they are less likely to be degraded by being exposed to light or air) and the skin takes to them very well. Aminopropyl ascorbyl phosphate is a known pigment-preventer too. 
This is a primo daily protectant that additionally contains palmitoyl tripeptide-5, a peptide that sends messages to the skin to make more collagen. 
This is super for photodamaged skin, mature skin and pigmentation.
 Dermalogica Renewal Lip Complex 
Your lips have skin too so they need a skin-first lip balm like the Dermalogica Renewal Lip Complex. This doesn't just hydrate or protect, it nourishes and comforts the lips at the same time without drying them out in the long run. 
There's avocado oil in there to create a shield on the lips and to moisturise them as well as shea butter and cocoa seed butter. Don't let the butters put you off - it feels lighter than it sounds whilst still doing the job. 
What we love is that it contains peptides to keep your lips looking as young as the rest of you! 
Vegans, rejoice, as it is suitable for you too - this product actually uses synthetic beeswax to mimic the effects without being animal-derived. Woop woop! 
The Full List Of Dermalogica Products That We Now Stock 
 These aren't all that we've got! We now stock all of these: 
UltraCalming Barrier Repair 
Clearing Skin Wash
Daily Microfoliant
Multi-Active Toner
Multivitamin Power Recovery Masque 
Oil Free Matte SPF30 
PreCleanse Balm
Sebum Clearing Masque
Skin Hydrating Masque 
As mentioned earlier, if you're interested in adding any of these products to your routine, ask about them in your follow-up consultation which you can book here, get on to us over nerdie virtual chat (the little bubble in the righthand corner of the screen) or email us at consult@theskinnerd.com.