Packing Your Pregnancy Hospital Bag: Skincare Edition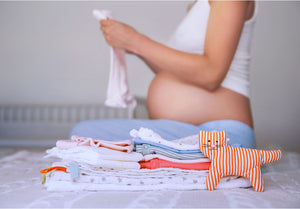 If you're growing a mini-hooman at present, first of all, congratulations! 
Second of all - how are you finding the prep?
Mini-hooman growing takes a lot of energy and a lot of patience too. If you, or someone near and dear to you is about to take charge of a mini-Nerd of their own, then you'll be aware of how many lists are involved in the process.

We've been chatting to Gráinne, our Head of Education and current Grower Of Mini-Hooman about some of these lists. She's super prepared, and has all her lists made and her bags packed! Packing the Hospital Bag, we have been told, was the most challenging bit.

Of course, this contains all the biz for baby, nappies and baby grows and bits and pieces - but it also will contain everything for YOU. 
Gráinne has been chatting to us about her must-have products for a stay in hospital - from overnight to a list in case of an extended stay, and has been good enough to share her top picks with us! So here are Gráinne's must-have nerdie products for her hospital bag.
Skincare from the Mama Mio Range
Gráinne has chosen several products from the Mama Mio range, and no surprises there - the range was created specifically for expectant mammies and those with a newborn. 
This oil is lightweight, super hydrating and safe for use during pregnancy and breastfeeding. It helps to minimise the appearance of stretch marks and is full of organic oils, such as argan, coconut, sweet almond and rosehip. You can also use it as a body moisturiser, even after baby has arrived. 
The Tummy Rub Butter contains natural omegas, and is super soothing to potentially itchy or irritated bumps. It also can help to prevent stretch marks and increase skin elasticity! It feels super velvety and rich on the skin, and is a really comforting product to apply liberally.

Gráinne tells us that she likes to layer the oil over the butter, but that you could easily pick whichever consistency you prefer - oil or butter - as both products contain very similar ingredients.
This breast-feeding safe cream is super soothing on breasts which might be sore, irritated or itchy - during pregnancy and beyond. It's super cooling and also works to soothe any persistent itch in the skin. 
Gráinne's Skincare Choices
Gráinne's got a list a mile long for the mini hooman - but it's important to remember that the Mammy is also going to be at the hospital, and needs her bits too. With that in mind, Gráinne has shared her list of skincare choices for her stay. Here's here highlights!
Cleansers
Gráinne has chosen ASAP Skincare Gentle Cleansing Gel: a gentle, inactive gel cleanser, which is full of potent antioxidants, which is soap-free and suitable for even sensitive skin. 
Gráinne has been thinking ahead, and will also be bringing Skingredients Sally Cleanse with her 'in case of a longer stay'. Sally isn't suitable for use during pregnancy, and Gráinne tells us that she has been missing it. 
Sally Cleanse is a salicylic-acid based exfoliating cleanser, perfect for those with skin prone to oiliness. It's ideal for exfoliating with between once to three times per week. 

Gráinne has been experiencing hormonal breakouts during the course of her pregnancy, so she's keen to have Sally as a pal in the delivery room with her (well, close by, anyway).
SPF
As her SPF, Gráinne has chosen Skingredients Skin Shield SPF 50 PA+++, because Gráinne knows better than any of us that SPF is an everyday situation - even in her hospital bed! She truly is an icon of skincare. She's chosen Skin Shield as it's a broad spectrum SPF, which means that her skin will be protected from HEV and infrared light, even if she is not exposed to natural light during her (hopefully brief!) hospital stay. It's also anti-flashback, so she'll definitely look fab in all her pics with the newest member of Team Nerd.
A Sheet Mask As A Treat
IMAGE I Mask Hydrating Hydrogel Sheet Mask into her hospital bag, in case she feels like slipping it on to cool and hydrate her skin after labour. It contains hyaluronic acid as well as antioxidants like green tea and red wine extract. 
She's keen to assure us that this is a luxury item, mind - not a necessity.
Cleanse Off Mitts for Gráinne and Nerdín
Gráinne has also decided to pack six Cleanse Off Mitts for herself, in case of an extended stay, and four for baby, as they are suitable for baby skin too - no matter how new!
She's gone with two pink and two blue for baby, for her gender reveal which is all terribly exciting. 
Spritz
A very important product in Gráinne's bag will be the Avene Thermal Water Spray. This spray is super helpful in keeping your skin hydrated and cool during your stay, or if you're feeling hot, sweaty and uncomfortable during labour. It's so gentle that it can be used after birth in order to soothe and cool all of your sore bits (ouch), which makes it a great dual use product. 
Other Hospital Bag Bits
We never thought we'd say this, but we have to admit that it's not all about skincare. Gráinne has a ton of other bits on her list, too, but these are just a few of her highlights - bits just for her.
We're well aware that having a baby means that normal service of your life can be a bit suspended, but we also know that at the very least skincare can be a comforting ritual, and it's nice to be surrounding by your own familiar bits, especially when you're in hospital.
Gráinne tells us she is bringing small sized products wherever she can. It could be a nice idea to stow some of your skincare into your hospital bag, or put aside even a few of your samples in advance of the big day.

But most importantly of all - how exciting! What are you planning to bring in your hospital bag?