Proven Modes of Reducing Stress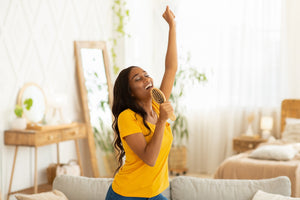 Stress and misbehaving skin often go hand in hand. Just when you're faced with a job interview, house move, or worldwide pandemic, it's sod's law that blemishes or a skin condition will conveniently flare-up.
That's all because of our brain-to-skin connection. An article published in the Inflammation & Allergy Drug Targets (2004) notes that emotions, hormone levels and psychological factors can all impact our skin's health and exacerbate any skin conditions.
Since stress affects our body, mind, and spirit, taking a multi-pronged approach to alleviate stress and help soothe our skin woes is key. Keep reading for our nerdie reasoning behind stressed-out skin and some research-backed remedies that can help manage mental, physical or emotional stress.
How does stress affect our skin?
When we're stressed our body responds by producing cortisol (the stress hormone). Now, cortisol isn't the bad guy: low levels of cortisol are essential for our bodies to manage stress, it puts us into "fight-or-flight" mode.
We only run into trouble when experiencing prolonged or chronic stress as this causes cortisol levels to go through the roof. Huge doses of cortisol can have a negative effect on the skin: think acne, dry skin, or flare-ups of inflammatory conditions such as rosacea, eczema, and psoriasis.
Increased sebum production
Too much cortisol, epinephrine (adrenaline) and norepinephrine (noradrenaline) disrupt the balance of our sex hormones, oestrogen, and testosterone, which regulate key skin functions like oil production. In essence, that means our sebaceous glands are stimulated to churn out more sebum which can then clog our pores and breed more blemishes.
Salicylic acid is fabulous for regulating oil production and keeping blemishes at bay which makes it an oily or acne-prone hooman's best friend. It's a BHA that's oil-soluble which means it can penetrate the lipid layers of your skin to dissolve sebum. The Skingredients Sally Cleanse (€25.00) contains 2% salicylic acid to purge pores of sebum and gently exfoliate to slough away dead skin cells.
Inflammation
Similarly, an increased cortisol level weakens our immune system which activates the skin's mast cells and causes an inflammatory response such as an eczema, rosacea or psoriasis flare-up. The National Rosacea Society conducted a survey on rosacea patients which found that 79% cited emotional stress as a common trigger for flare-ups. This creates a vicious cycle in hoomans with inflammatory skin conditions, as the stress from a flare-up can prolong and exacerbate symptoms.
Vitamin A is a superstar antioxidant that has been proven to bring down inflammation and help to regulate oil production. The Environ Skin EssentiA Vita-Antioxidant AVST Moisturiser 1 (€57.00) includes introductory amounts of vitamin A and vitamin C, an antioxidant that helps to bring down redness.
How to reduce stress
Eating well
Eating the good stuff – we're talking lots of vibrant veg, fruit, oily fish, and nuts – will nourish your body as well as your mind. The NHS states that "eating a healthy, balanced diet is an important part of maintaining good health, and can help you feel your best."
Vitamin C (found in peppers, oranges and broccoli) is crucial in your diet when battling stress as it regulates cortisol levels in your bloodstream. Healthy fats, like omega 3s, help to bring down inflammation, so load up on salmon, tuna and walnuts. Whereas magnesium (found in spinach, avocado and legumes) aids the brain functions that reduce anxiety.
A nerdie interlude: good food equals a good mood (and skin) because of our brain-gut-skin axis. The American Psychological Association states that our "gut bacteria manufacture about 95 percent of the body's supply of serotonin [our natural feel-good chemical]". So, it's super important you're getting the right nutrition and cutting back on your intake of caffeine and processed foods.
Adaptogens
Yep, we're talking about stress-relieving herbs. Hear us out! Adaptogens are herbs that assist your body's stress responses when digested (although it can be applied topically to your skin as well). A 6-week study on human participants in Nepal (2006), found that Tulsi, otherwise known as holy basil, helped to relieve stress, anxiety and depression, and improve sleep. The Hush & Hush Mind Your Mind supplements (€55.00 for 60) include holy basil in its soothing recipe to calm nerves and help hoomans have restful sleeps.
Exercise
Exercise and meditation will stimulate the release of endorphins: feel-good neurotransmitters that create a sense of well-being and reduce stress. Sometimes simplicity is key: having a walk is a great way to lift and lighten your mood. A study conducted in 2018 found that there were noticeable psychological benefits from participants walking through forest areas as stress levels were reduced. But don't worry city folk, any walk is guaranteed to clear your mind!
Similarly, a regular yoga session works wonders for instilling peace and releasing negative feelings. It's especially important for hoomans that work at a desk (that's us nerds, too) who feel like they need to stretch their limbs and improve posture. A study on the effects of yoga on stress found that participants who were involved in regular yoga sessions over a 16-week period had better psychological health.
Wellbeing and music
Here's permission to belt out your favourite song, no matter how terrible you sound. A study into the effects of music and our mental wellbeing found that listening to your favourite tunes or regularly singing reduced anxiety and lifted hoomans' spirits — in teenagers and older adults.