REN Skincare: The New Clean Brand To Hit The Skin Nerd Store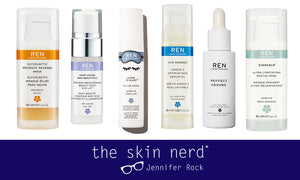 We are delighted to be a proud online stockist of REN Skincare, a clean skincare brand that embraces the concept of the bio-active.
"What is a bio-active?", we hear you ask. It's pretty simple - you know active ingredients? The type of ingredient that can make a change to the skin rather than just pacify it? Bio-actives are ingredients that are active in their biological form. As REN would say themselves, no toxins, no harsh chemicals and no potential irritants. 
We're stocking a whole heap of REN products, available to ALL on the store, but for now, we're going to focus on some of our top picks: 
REN Ready Steady Glow AHA Tonic (€32.00)
We love an AHA at The Skin Nerd and we do not hide this fact. We don't want no scrubs, acids all the way, baby. REN's Ready Steady Glow AHA Tonic is an exfoliating toner/liquid product designed for daily use. It contains lactic acid aka the most hydrating of the AHAs and willow bark extract (which is where we find salicylic acid in nature).
Seeing as it is lactic acid, this is ideal for those with dry skin and dehydrated skin and those who tend towards the more sensitive side. 
REN AHA Smart Renewal Body Serum (€39.00)
This beautiful body exfoliator uses lactic acid to slough off the dead skin cells and get you glowing again. When it comes to body products, we need something that not only exfoliates but nourishes and re-hydrates the skin, hence why hydrating lactic acid is perfect.
The Smart Renewal Body Serum also contains probiotics (woo woo) to re-colonise your skin's microbiome. Let's be real - we put much more sensitising stuff on our bodies than we would DREAM of putting on our face. Between perfumed shower gels and stripping shaving foams, our skin's good bacteria and barrier don't stand a chance. Putting probiotics on to the skin helps to restore the health of the skin's microbiome and barrier. 
This is ideal for use post-shave to stop ingrown hairs in their tracks, pre-fake-tan to give you a smooth, dead skin cell free canvas to work from and can be used daily too as it is quite gentle. 
Vitamin A all the way but some skins don't take well to them, no matter how we try to coax them. This Bio Retinoid Anti-Wrinkle Concentrate Oil uses ingredients that work within the skin in a similar way to vitamin A (bio-retinoids). 
In this oil, you'll find pro-vitamin A which converts to vitamin A within the skin. This inside-the-skin conversion means that irritation is much, much less likely to occur. There's also bakuchiol, an ingredient found in two specific plants, that is an antioxidant that works like retinol to help to stimulate collagen production. 
If that's not enough, it contains bidens pilosa extract, palm oil, cotton seed oil and linseed oil. When these particular four ingredients band together, they become a super group like McBusted except with magical retinol-like powers. 
This is also vegan - wehoo! 
We're Now Stocking...
These aren't even all of the REN products we're stocking! 
We're also stocking:
As we mentioned earlier, these are open to all but you can of course discuss adding these to your routine with your Nerdette too!