Skincare Mythbusting: Cost, Cleansing & Fridges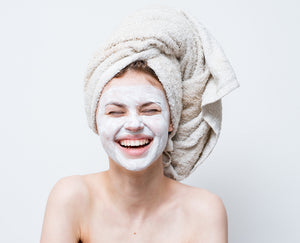 UPDATED: 1/4/20
I cannot get enough of the myth-busting, which is why I always come back to it. As skincare grows and becomes a much bigger, much more complex industry, it gathers more mythology around it. It's a sign of the times but I don't like people being misled. Although skincare usually revolves around science, there are still parts of it that rely on opinion. For example, as we'll discuss, some believe in not cleansing at all, whereas others believe in triple cleansing.
Do I need a skincare fridge?
Scrolling through Instagram, I saw someone talking about their skincare fridge. Cue a minor gasp - is this real life? Are people getting special fridges for just their skincare? Now, there are certain things that I will pop in the fridge prior to using them - specifically eye creams and my jade roller - but it is not a skincare-only fridge, it is the same fridge that houses my turkey bacon and fruit (and definitely not anything bold)? 

Upon research, I discovered a whole portion of the internet are using skincare fridges in the hopes of keeping their skincare fresher. This would make sense if we were making and using fresh skincare, in a sense. But we ain't, and for good reason. The active ingredients in your results-driven products can be quite temperamental, for example, vitamin C (in the form of l-ascorbic acid) is notorious for being rendered useless by oxygen and light. To keep these ingredients active and to stop products from splitting, separating and going rancid, skincare and beauty formulators add preservatives and use specific types of packaging, such as airless pumps, like that in Skingredients Skin Protein!
A side note: preservatives will not hurt you. For a product to be sold in Ireland or America, for example, they must pass EC (European Commission) and FDA (Food and Drug Administration) standards for health respectively. The EU bans skincare ingredients all the time, and there are over 1,300 ingredients banned at present!
Soooo, no, a skincare fridge probably will not actually keep your skincare more effective for longer. Store it in a cool, dry, dark space and replace it regularly… That's the tried and tested technique!
Is expensive skincare always better than cheaper skincare?
At The Skin Nerd, we work with much more affordable brands as well as brands that wouldn't be considered affordable by many. Our belief is that it's the ingredients and the quality of ingredients inside the product that matters, not the price tag attached to them. Sometimes, it's difficult to find particular ingredients in more affordable formulations - vitamin A, vitamin C and peptides spring to mind.

Often, if we recommend an expensive product, it is because it will act as two cheaper products may. An active, acid-based cleanser, such as the Neostrata Glycolic Foaming Wash, is your cleanser and toner in one, and a serum that combines vitamin A, vitamin C and peptides is your antioxidant serum and your anti-ageing serum. Because of this, when people want cheaper dupes, it's actually quite difficult to find them. It isn't just what the ingredients are that matters. When it comes to acids specifically, the pH of the product matters greatly. If the PH of your salicylic acid product is too low (below 3), it is more likely to cause irritation in the skin, and acids need to be in specific percentages and formulations to even exfoliate the skin.




In my opinion, there is no need to fork out a lot on your pre-cleansing product, as you will be following it up with a cleanser. However, your serum will be remaining on your skin for at least 8 hours and is designed to *do* something for your skin, so that's where you should probably be extending your budget. There are plenty of luxury brands that just contain the same plant extracts as brands that are retailing identical products that are a quarter of the price. It's about getting your magnifying glass out and reading that INCI list, the list of ingredients that must legally be on the product packaging in order.
Do I need to triple cleanse?
The double cleanse, meaning using a step to remove your makeup and a second step to cleanse, nourish and treat the skin, is a mainstay in Nerd culture. The reason we advocate for this slightly more in-depth mode of cleansing is because a) you need to remove your makeup thoroughly anyway and b) your cleanser simply won't work as well if you haven't removed your makeup thoroughly. Before I tell you that you don't need to triple cleanse, I'm going to go ahead and say that sometimes, I triple cleanse. My version of triple cleansing would be to remove my makeup with the Cleanse Off Mitt, follow it up with the Dermalogica PreCleanse Balm, for example, and then cleanse with an active salicylic acid cleanser.




I've seen triple cleansing being described as…
Wipes (no, thank you)

Your pre-cleanse

Your foaming cleanser
Or
Oil-based cleanser

Cream cleanser

Foaming cleanser
Best case scenario, it's just not truly necessary everyday at least and a waste of your skincare budget. Worst case scenario, you over-cleanse your skin, strip it of the natural oils that help to make up the acid mantle (the skin's protective barrier). There are some key symptoms that you've over-cleansed or stripped your skin: your skin will feel very tight and dry after cleansing, you seem some flaking, irritation and redness, any spots you have are very red and inflamed and your skin may feel dry but still be producing too much oil.

Once you stop over-cleansing, your skin will essentially "fix" itself, but I find that using a product with fatty acids and skin-native lipids such as ceramides, and barrier-repairing niacinamide, can speed up this process. A skin hack, if you will!