Summer Skincare Pairings For Your Skin Connoisseur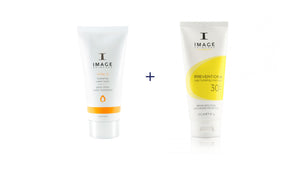 Wine and cheese? We'll take a brightening serum and an SPF instead any day. Maybe that's a bit dramatic... Please, wine and cheese gods, don't smite us! We love you! 
There are some deadly duos that we adore for the sunnier times to keep our skin happy, and if they are good enough for Team Nerd's precious skin, they will rock for you too. 
Summer Skincare Pairings
IMAGE Vital C Hydrating Water Burst & IMAGE Prevention+ Hydrating SPF 30 
Something that few people take into consideration: those with dry or dehydrated skin sweat too. Dry-skinned hoomans still need their different types of hydrators in Summer but they will need lighter layers, just like how you won't be wearing two woolly jumpers. 
The Vital C Water Burst (€52.00 for July) is a super lightweight gel that becomes a watery consistency when rubbed briskly (but not too briskly) into your face, and it is packed with hyaluronic acid, antioxidants, vitamins and anti-ageing peptides to keep you looking dewy, glowy and feeling hydrated. 
The Prevention+ Daily Hydrating Moisturiser with SPF 30 (€38.00 for July) is a more moisturising SPF than many, ideal for someone who needs a final layer of comfort even after serums. 
Both are 20% off for the month of July on the Nerd Network store too, a definite plus! 
Advanced Nutrition Programme Skin Vit A+ & Skin Formulas Vit C Serum
Summer means more time outside which means much more of a need for antioxidants. Antioxidants help to protect the skin from both damage from UV rays and environmental aggressors (including pollution).
Getting them in from the inside and on the outside is the equivalent of setting the alarm AND locking the door. 
Skin Vit A+ (€26.50) provides you with optimal amounts of vitamin A, an antioxidant vitamin that can become depleted in our skin due to UV exposure, and applying Skin Formulas Vit C Serum (€50.00) is a lightweight serum with oil-soluble vitamin C that provides your skin with antioxidant protection whilst fighting pigmentation - a big woe during sunnier times! 
Taking care of your skin on the go ain't easy - especially when it comes to staying cool, keeping your makeup looking great and topping up your SPF.  
The Jane Iredale Powder Me SPF 30 (€40.00) is a powder broad spectrum mineral SPF with its own puff (adorable) for easy SPF top-ups that won't spoil the effort you've put into your face at those in-law barbecues.  
The Avene Thermal Water Spray Spritz (€15.00) is big bag friendly and soothes and hydrates skin with the press of a sprayer. Team Nerd swear by a cool spritz for day trips and if you do end up getting sunburnt, we will be very cross but this will certainly help to ease it. Bonus: it will revive your foundation if you've been having too much fun to look at it! 
NB: Spritz before you top up your SPF and allow your face to dry before SPF-ing so that it will protect you properly! 
Want more Summer skin advice? 
Book in for your follow-up consultation to rejig your routine.