Super Soothing Skincare Treats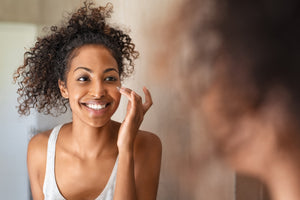 Do you want your skin to feed as snug and soothed as you do under about twenty duvets, cup of peppermint tea in hand and The Crown playing on Netflix? We can relate. This time of year, it's all about hunkering down and making cosiness an art-form.  
Bracing walks out in the winter air combined with central heating and any tendencies of your skin can mean that you might be feeling a little skin-sensitive about the moment. Winter is a common time of year for skin for to feel sensitive, stripped, and in need of a big skincare hug.  
What causes skin sensitivity in the winter?
The winter season has us making our peace with rapidly changing temperatures, hot to cold, as we move from indoors to outdoors. Wind can affect our skin's barrier too. 
Combine this with potential disruptions in sleep, exercise, and even stress (oh, yes), and it's a recipe that will need some serious skin-soothing to sort.  
What to do for red skin
If you find your skin becoming a little redder as the winter months draw on, it can be a sign of an impaired skin barrier. Your skin barrier helps to keep hydration inside and keep irritants out. Your skin barrier can become stripped or impaired through the repetition of cold weather - but it can also be the way your skin tends! If you've always had sensitive skin, then you were born with a weakened skin barrier. If you overuse certain skincare ingredients, you can sensitise your skin, which makes it more prone to inflammation due to a weakened skin barrier. 
An impaired skin barrier means that your skin loses more moisture than it would normally, and this dehydration can make your skin appear red and inflamed, and feel itchy and uncomfortable. 
If you usually suffer from redness, the cold weather of winter might have you flaring up more than usual. If you suffer from rosacea, you'll probably find that the rapid changes from hot to cold as well as the dry indoor air as we blast central heating all conspire to chip away at your skin barrier and make you more red-faced than usual. 
Vitamin C is a great choice for red skin, as it's a powerful antioxidant which can turn down the dial on redness and help to protect your skin from environmental stressors, too. Vitamin C supports collagen synthesis and collagen is the protein that keeps our capillaries strong – when our capillaries are strong, we will see fewer damaged capillaries and reduced redness.  
Skingredients Skin Protein is part of the Skingredients Core 4 range. It's suitable for twice-daily use and is rich in vitamins A, C, and E – as well as containing a pro-collagen peptide, and a host of antioxidants, too. You can also bring Solgar Ester-C Plus 1000mg Vitamin C into your supplement routine if you want to C some results.  
What to do for spot-prone skin 
Rapid changes in temperature can make your skin overproduce oil. If your skin becomes dehydrated, the natural response of skin is to produce oil to try and counteract this dryness. The overproduction of oil can lead to breakouts and flareups as this oil clogs pores and forms spots! 
Keeping salicylic acid on hand is the perfect plan of action for busting breakouts in the winter months (and all year around if we're being perfectly honest).  
Salicylic-acid is an oil-soluble exfoliating acid which is perfect for cutting through oil in pores and dissolving blockages which might otherwise lead to spots and blackheads! 
Our salicylic acid must-haves are Skingredients Sally Cleanse and Environ Sebu-Wash. Use them both as directed by your Nerd or Nerdette or the packaging – salicylic acid means business! 
What to do for Eczema-prone skin 
You might find that eczema flares in the winter months as we raise the temperature of our baths, but you can reduce the potential itch by bringing the thermostat down on your bath, and choosing a moisturiser which will soothe and nourish your skin. It might be worth considering a humidifier to keep your skin hydrated. (Pro tip: you can often drop a few drops of essential oil into your humidifier to flood the room with a delightful scent!)  
Top Soothing Skincare 
With all of this in mind, here's some of our top picks for soothing skin during the winter months – little treats for hard done by skin to feel a little pep of luxury! 
Skingredients Skin Good Fats 
This moisturiser and night cream was called a 'a hug in a tub' by the fabulous Eva of Skingredients Project Love Your Skin, and we've got to agree. Skin Good Fats contains the skin-native lipid (fat), ceramide NP which can help to restore and soothe your skin's barrier. It also contains a patented anti-itch ingredient – perfect for smoothing on after cleansing and serum-ing for skin which is prone to itchiness and discomfort.  
We know we've mentioned a lot of Skingredients here, but we are very knowledgeable on the formulations – for obvious reasons! 
Avène Soothing Radiance Mask 
For skin which is prone to reaction but loves the feeling of luxury, the Avène Soothing Radiance Mask is a perfect choice. Infused with the thermal water of Avene and Red-fruit extract and safflower oil to replenish the skin barrier, boost radiance and promote optimal skin hydration. The mask's formula is designed to leave the skin looking radiant and, feeling smooth, supple and nourished. Leave it on overnight on top of your serums or apply for 15 minutes to cleansed skin for best results! 
Murad Sensitive Skin Soothing Serum 
This serum protects and soothes sensitive skin while minimizing redness. Locks in moisture and helps restore suppleness and resiliency. Apply it post-cleanse twice a day for best, skin soothing results! 
Jane Iredale D2O Hydration Spray 
This spritz is perfect for hydrating and plumping skin, as well as calming and nourishing it. Perfect for setting mineral makeup and for soothing skin post laser treatment. It is certified organic, too! Apply liberally as often as you please! 
If winter skin is giving you grief, you can get in touch with your Nerd or Nerdette for a follow-up consultation and another round of personalised skincare advice to suit the changing seasons!