The 2 Irish Products Rocking The Beauty World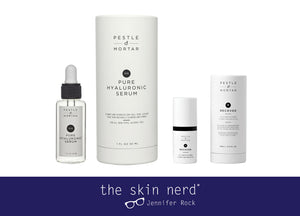 You'd have to have been living under a rock to not have heard of or seen Pestle & Mortar somewhere. It was started by Kildare's Sonia Deasy when she was working alongside her husband Padraic Deasy, who is an international photographer, and realised that his subjects' skin looked so dry and dehydrated up close.
This is how the creation of Pestle & Mortar came about, as Sonia decided to take the creation of simple products that help the skin into her own hands with the help of her sister, who has a degree in biochemistry.
A fun tidbit about Pestle and Mortar's eye cream: Sonia is of Indian descent, which, as you may know, means she is more prone to pigment-related dark circles. Because of this, she was driven to formulate an eye cream that makes a visible difference to dark circles. This is how the Recover Eye Cream came into being.
We now stock Pestle & Mortar's Recover Eye Cream and the cult Pure Hyaluronic Serum on The Skin Nerd store – can we get a wehooooo? 
These products are insanely popular and for good reason!  
Pestle & Mortar Recover Eye Cream (€38.00)
Sometimes you have to settle on an eye cream that will help with dark circles OR reduce puffiness OR minimise fine lines... With the Recover Eye Cream, you get an eye cream that helps with all three. 
It contains palmitoyl tripeptide-5, a peptide that acts like a particular protein in the skin that convinces the skin to up collagen production. More collagen means plumper skin with more bounce factor and fewer fine lines around the eyes. 
It's not an anti-ageing product without antioxidants and this fantastic product contains coffee seed extract, which is full of polyphenols, making it a prime antioxidant.  
If you're looking for an eye cream that battles every single eye area skin concern, this is for you! 
Click here to get your Recover Eye Cream 
Pestle & Mortar Pure Hyaluronic Serum (€43.00)
We love a serum here at Nerd HQ and this is one of our all-time faves. Why? Because it is absolutely laden with hyaluronic acid in the form of sodium hyaluronate. Sodium hyaluronate is the sodium salt of hyaluronic acid which has a smaller molecule than hyaluronic acid - sorry, that was a bit nerdie. What we're saying is that sodium hyaluronate gets deeper into the skin than pure, pure hyaluronic acid, meaning that it hydrates at a lower level rather than just providing surface hydration. 
You'll also find aloe leaf juice, vitamin E and glycerine in this serum - it's just a hydrator extraordinaire. 
Click here to get your Pure Hyaluronic Serum
We are so delighted to be stocking these products - to be honest, you really, really wanted them and we did too!