The Benefits of Multivitamins, Inside and Outside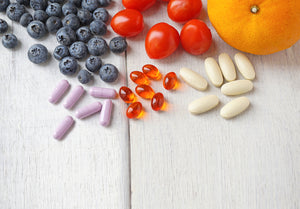 We recommend a lot of separate supplements rather than multivits the majority of the time - we know. Our reasoning is always that you simply don't get the same amounts of nutrients from a single multivit, at least for skin benefits as with vitamin C and vitamin A. Your multivitamin should be your core support, because the healthier you are, the healthier you skin is. Advanced Nutrition Programme, for example, recommend taking a multivitamin alongside your skin-specific supplements. Both definitely have a place… Both internally and topically!
What is a multivitamin? 
It's a one-stop-shop supplement that contains a variety of vitamins, and although we don't have anything labelled as a multivitamin on the store, we do actually have some - and we have serums and topical products that fit into the definition of a multivitamin!
ASAP Super B Complex
This is a proper Nerdie favourite - ASAP Super B Complex is like a vitamin B complex for your skin. One of its star ingredients is niacinamide, or vitamin B3. This will help to reduce pigmentation and can help to diminish hyperpigmentation as a result of acne, as well as boosting collagen production, which can slow down past the age of 25. 
It's also got vitamins B5 (pantothenic acid) and B9 (folic acid) which helps to improve skin tone and can diminish the appearance of fine lines and wrinkles. This serum limits sebum production and brings down inflammation, making it ideal for hoomans who are acne-prone, as well as dehydrated skin, and skin which is irritated. It's something of an ideal multivitamin for the skin as it covers such a range of skin concerns. 
ZENii ProClear Supplements
ZENii ProClear Supplements are a great option for anyone dealing with blemishes or redness, and it contains a host of useful ingredients to help to tackle the source of outbreaks. It's got vitamin A (essential for maintaining healthy cell function, and not produced in the body!), vitamin C for collagen boosting, vitamin E and green tea extract for antioxidant protection, zinc for congestion, omega-3 for skin barrier function and probiotics to balance the bacteria of the gut.
It's helpful that they're directed at those suffering from congestion, but they still pack in a lot of other useful ingredients into the one handy capsule! 
Hush&Hush Time Capsule
Hush&Hush Time Capsule is a supplement predominantly for anti-ageing, but is helpful for anyone looking to protect their skin from environmental factors and to improve overall skin health.

It contains a host of vitamins, such as vitamin A, vitamin C, vitamin D, and vitamin E. It also contains marine collagen, which can aid with collagen production, and can result in firmer skin. It contains a blend of amino acids to reduce muscle breakdown and can also help to improve brain function. As an ingredient focussing on stress relief, it contains panax ginseng root powder, which can help to combat fatigue and also contains a lot of vitamins and amino acids. It's full of omegas too, with omegas 3, 6, and 9 featuring as ingredients - perfect for maintaining a healthy skin barrier, reducing inflammation and keeping your skin hydrated as heck.
IMAGE Vital C Hydrating Antioxidant A C E Serum
This serum is fondly referred to as being like a daily multivitamin for the skin. IMAGE Vital C ACE Oil is full of peptides (amino acids which help to build proteins in your skin like collagen, elastin and keratin) and essential vitamins and antioxidants. These work together to diminish signs of ageing and combat dryness and the degradation of collagen. 
It contains retinyl palmitate (vitamin A), three types of vitamin C and antioxidant green tea extract, to name but a few. It's ideal for skin which might tend towards dryness, and is a perfect serum for starting or ending your day - just make sure to put your SPF on afterwards as part of your AM routine! 
Glo Luminous Liquid Foundation SPF
Getting your vitamins and minerals doesn't have to be a dreary business. You can even boost your routine by including makeup in your routine which boasts vitamins credentials. Glo Luminous Liquid Foundation SPF 18 use a lightweight liquid formulation which provides great coverage and - the clue's in the name - a luminous complexion.

It also contains vitamin A, vitamin E, vitamin C and green tea leaf extract for antioxidant protection! 
There are certain vitamins which are skin superstars - you've probably noticed that the common thread through these tends to be vitamins A, C, and E - hence they occur so often in the serums which we love the most. It's a pretty ace combination, if you'll allow the pun. Vitamin A for cell renewal and for targeting inflammation, vitamin C for antioxidant support and collagen stimulation and vitamin E for anti-ageing and for fighting off free radicals too. 
So, you can see that there are plenty of ways to get supplementing your skin, such as applying vitamin-rich topical treatments as well as being diligent in remembering to take your internal support! Just remember to always check how your supplements are meant to be taken - with or without food, and usually with water (not tea or coffee!). 
We're always recommending vitamin Nerd, however - you can always check in with your Nerd or Nerdette for your follow-up appointment and to discuss if your internal support if working for you, or if any changes might help to target your skin concerns more directly. They can also answer any questions which you might have about what would more directly benefit your skin, or if certain supplements would suit you! You can always NerdsApp us at +353 87 707 0936 as well, and get a speedy expert answer!